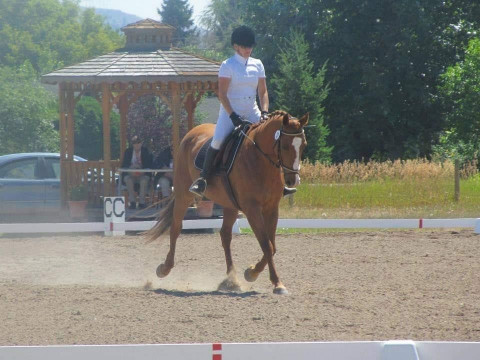 John Lyons once said, "Dressage means beyond useful." Over the years I have thought about that statement many times. Any horse that you can ride down the trail is useful. However, when you add any other discipline to your horses skill set, you make it more than useful. You are giving your horse a specialty. Some horses have many different specialties. Some horses are able to work on the ranch and move cattle, some compete in show rings in Dressage, Western Pleasure or Working Equitation. All of these disciplines are specialized and the end result is a phenomenal relationship between horse and rider. It's a relationship built on communication and trust between you and one of God's greatest athletes, the horse.
To accomplish this relationship and end result, you need to start on the ground. Through groundwork, you and your horse learn to understand each other. You're able to develop a language of your own. As every human is different, so is every horse. They react differently and learn differently. As a good horse person, you must learn to be "herd leader" and to listen to your horse. It is your job to become tuned in with what your horse's needs are, and to help it become the best it can be.
I am offering a natural training program that begins on the ground. Its purpose is to develop your skill as a horse person. If you have always wanted to have your horse understand the slightest tilt of your head or movement of your finger and to be able to read your body language by the slightest indication, I can help. I'm inviting you to come and join me for a 5-week course on understanding and developing your natural training technique.
Open the door to a new horizon for you and the horses in your future, call 529-1500 email for more information.
Specialties
Adult Amateurs & Beginners Welcome
Advanced Training for Horse & Rider
Classical Dressage
Creates Horses With Good Work Ethic
Full Service Dressage Training
Ground Work
Horses For Adoption
Kids
Lessons For Children And Adults
Monthly Training
Private Riding Lessons
School Horses Available
Teaching You How To Train Your Horse