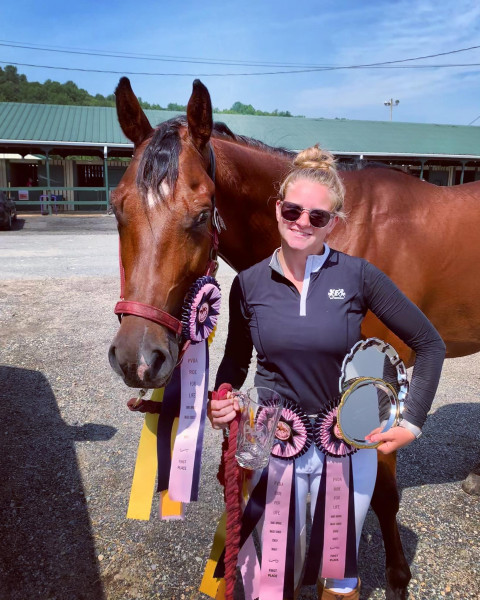 Katie Dodson is an avid FEI dressage rider and all-around teacher who mainly focuses on the bio-mechanics of both the horse and rider, and specifically how the rider's body plays an important role in the effectiveness of the aids, gaits and movements. Taking an interest in kinesiology, she uses concepts of physio, sports therapy, bio-mechanics and therapy tools to help riders to perform to their potential in any discipline. At only 25 years old, Katie has successfully earned her USDF Bronze medal, competed in show jumping all around the East Coast, and schooled up to training level Eventing.
At a young age, Katie dove into the horse world when taking lessons at a competition barn in Middleburg, Virginia, and was thrown into many hunter jumper competitions. From that point on, she grew up with a well-rounded education in multiple disciplines at a local United States Pony Club Riding Center as a student and in 2013 became one of their main instructors. With the help of that riding center, Katie solidified her spot in the horse industry teaching various lessons beginner through advanced, managing many riding camps, and coaching at horse shows. In 2015, Katie purchased a beautiful Prix St Georges warmblood from the Netherlands, who opened her eyes to the world of dressage. Since then, she has had the pleasure of working with several international trainers and in notable FEI barns up and down the East Coast, and in turn sharing her accrued knowledge in many clinics.
In 2019, Katie branched out and spent three months in California re-starting race horses from Santa Anita Racetrack, unlocking their talents in various disciplines and helping them find homes. Most recently, she had the opportunity to train in Petit-Mars, France under some of the top dressage trainers in the South. She has experience starting and developing young horses in various disciplines and training "non-dressage" types, recently receiving multiple 2020 year-end awards on a Virginia bred Norwegian Fjord stallion. Her most notable success recently has been receiving her USDF Bronze Medal on a rescue mare from California. Katie seeks out every opportunity to continue her education from a number of notable mentors such as Alfredo Hernandez, Gwen Le Stunuff, Olivia LaGoy, and Boyd Martin. Now she is personally pursuing the upper levels of dressage and is excited to also get back to her jumping roots at Silver Eagle Stable, helping the next generation of horses and riders learn a solid foundation in whatever discipline they choose.
Specialties
Adult Amateurs & Beginners Welcome
Beginner Adults And Children
Biomechanics
Boarding
Classical Dressage
Dressage Score Improvements
Dressage Show Coaching
FEI Dressage Training
Ground Manners
Ground Training
Ground Work
Haul Ins Welcome
Kids
Kind
Lunge Lessons
Monthly Training
Older Adult Riders Welcome!
Private Riding Lessons
School Horses Available
USDF
Warmbloods
Young Riders