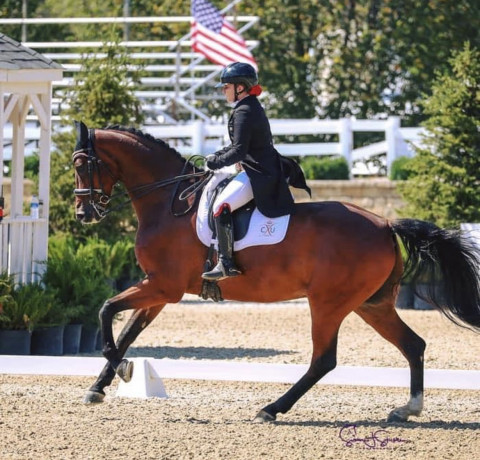 Coach• Trainer• Partner
With an established track record of producing horses from unbroken to FEI. Skye Simpson can help you achieve your horse dreams in the competition ring & outside of the ring.
Simpson is skilled at starting young horses, solving horse-training blocks, improving competition scores and building both rider and horse confidence.
COMPETITION HIGHLIGHTS
Training & Competing since 2007
• Professionally Trained by International & National Dressage Trainers
• NAYC 2019 Team Bronze Medalist
• 2019 Ranked #9 in North America
• USDF Silver and Bronze Medalist
•Training, First & Second Rider Performance Awards
•Competed FEI Levels up To Intermediate I •Trained professionally in natural horsemanship
•Specializes in young horse training and confidence building• Piaffe & Passage expertise from Spanish Riding School Trainers
• Show Experienced - Over 150 shows on self trained-competition horses
EDUCATIONAL HIGHLIGHTS
POST University - Bachelors in Equine Studies - Graduation 2024
• School of Applied Integrative Therapy for Equine Massage
• Judge Training Part 1 - L Program
Specialties
Acts As Agent In Your Search For Your Next Horse
Adult Amateurs & Beginners Welcome
Advanced Training for Horse & Rider
All Breeds Welcome!
Beginner Adults And Children
Biomechanics
Classical Dressage
Covered Arena
Creates Horses With Good Work Ethic
Dressage Clinics
Dressage Score Improvements
Dressage Show Coaching
FEI Dressage Training
First Level
Fourth Level
Full Grooming Services
Full Service Dressage Training
Gentle Approach
Ground Manners
Ground Training
Ground Work
Kids
Kind
Lessons For Children And Adults
Long Lining
Lunge Lessons
Monthly Training
Natural Horsemanship
Older Adult Riders Welcome!
Private Riding Lessons
Problem Horses
Sale Horses
School Horses Available
Second Level
Starting Dressage Horse Prospects
Teaching You How To Train Your Horse
Third Level
USDF
Warmbloods
Will Travel to You
Young Horse Training
Young Riders