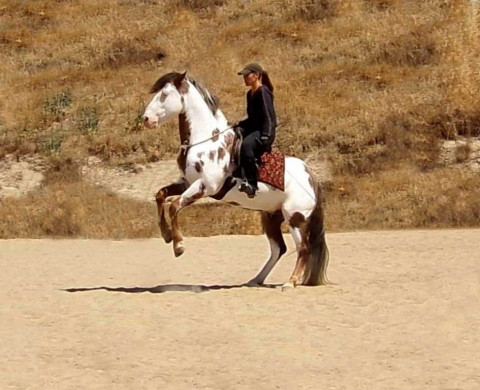 Envision horsemanship as it should be ....... a partnership.
When we approach our horsemanship with the intention of communicating our requests rather than forcing our demands, we can exude striking beauty, even at the most novice level.
Our trainer, Heather Meyer, specializes in professional natural horsemanship, western horsemanship, the equestrian performing arts, and classical dressage. Our services are designed to encourage the development of healthy, working relationships between horses and their people by attempting to clarify the missing dynamic in many of these partnerships. We offer professional multidisciplinary equine training, rehabilitation, and problem solving, as well as comprehensive instruction in effective, ethical horsemanship.
Specialties
4-H
All Around Horse Training
APHA
AQHA
Arabian Showing
Barrel Racing
Beginner Riders Welcome!
Behavior Modification
Breaking & Starting Western Horses
Breeding
Building Confidence
Classical Dressaage
Colt Starting
Conditioning
Cowboy Dressage
Cutting
Demonstrations
Desensitization
English Disciplines
Ethical Horsemanship
Experience With Quarter Horses
Gaited Horses
Groundwork
Halter Training
Herd Dynamics
Horse Finishing
Horse Tune-Ups
Horsekeeping Instruction
Horsemanship
Liberty Training
Line Work
Mobile Training
Multidisciplinary Horsemanship
Mustangs
Natural Horsemanship Trainer
Pony Training
Problem Horse Trainer
Professional Natural Horsemanship
Reining Training
Relationahip-based Training
Sales And Training
Trail Or Pleasure
Trailer Loading Training
Training
Training Safe Trail Horses
Trick Training
We Focus On Safety And Learning Communication With Your Horse
Western Dressage
Western Equitation
Western Riding Clinics
Western Riding Lessons
Young Horses
Young Riders Welcome!