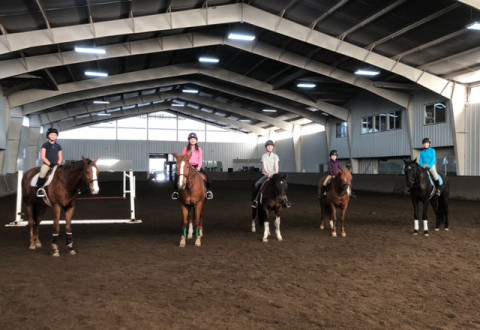 DERS Summer Horseback Riding Camp program is located close to Denver in Littleton, Colorado. Horse lovers ages 5-16yrs are divided into sessions according to age and ability. Some sessions available for beginners, and others designed for intermediate and advanced riders. Camp is run by certified CHA professionals, and riders spend the day with patient instructors and peers learning about horses and their care.
Every camper spends the day with horses, including a structured lesson in the saddle. We follow the Certified Horsemanship Association manuals of horsemanship. Just a few of the topics covered include: Equitation, Safety and Horse Care, Anatomy, Breeds - History, Color, Tack - Types, Parts, Cleaning, Horses - Grooming, Bathing, Clipping, Feeding, Cleaning, Injuries and Treatments, and Horse Show Preparation.
Campers should wear long pants for riding, a shirt with short or long sleeves, a certified horseback riding helmet, and hard-soled shoes or boots with a small heel. Bring a hearty, healthy lunch. Our camps include afternoon swimming at the neighboring Normandy Pool, so don't forget a swimsuit and towel!
Mention NEWHORSE.com and receive a FREE Certified Horseback Riding Helmet with your Summer Horse Camp registration this month!
Space is limited, and offered on a first-come, first-served basis. For more information, or to register, please contact us! Email:
Specialties
A Horse Camp That Is All Horses
Activities
Adult Beginners
Adult Horse Camps Available.
Adults
Advanced English Camps
Advanced Riders
Affordable
Afterschool Lessons
All Ages!
All Breeds
All The Time!
And Positive Life Skills.
And Private/semiprivate Lessons.
Arena
Basics
Bathrooms
Beautiful Facility
Beginner Educational Clinics
Beginner Thru Advanced Riding Lessons In English And Western. W
Beginner To Advanced Riding Lessons
Beginners - Experienced Riders
Beginners Welcome!
Beginning Jumping Clinic
Birthday Parties
Birthday Parties And Special Events.
Boarding
Boarding. English And Western Disciplines
Boy Scout
Bring A Lunch
Building Confidence
Camp
Carriage Driving
Certified Instructor
Certified Instuctors
Certified Riding Instructor
CHA Certified Instructors
Cha Certified Instructors; Scout Troop Rider Badge Sessions;Birt
Christian
Clean
Clinician
Clinics
Combined Training
Combining The Disciplines Of Hunter/Jumper And Dressage
Confidence Building
Covered Arena
Daily Riding Lessons
Day Camp
Dressage
Driving
Educational Clinics
English
English & Western
English And Dressage Riding
English Riding Lessons
Entertainment
Equestrian Camp
Equine Summer Camp
Equitation
Eventing
Events
Excellent Instruction
Experienced Instructor
Family
Family Atmosphere
Family Camps
Family Classes
Family Events
Family Friendly
Family Oriented
Field Trips
Full Service Riding Facility
Full Time Onsite Horse Trainers
Fun
Fun Games On Horseback That Teach Horsemanship Communication
Gift Certificates
Girl Scout
Girl Scout Badges
Great Horse And Ponies
Great Way To Learn About Horses
Group And Private
Group Lessons
Groups
Guided Trail Riding
Homeschool
Homeschool Programs
Horse & Pony Birthday Parties
Horse Boarding Available
Horse Camp Fun Show With Ribbons And Trophies
Horse Camps
Horse Education
Horse Leasing
Horse Lessons
Horse Riding
Horse Riding Lessons For Kids
Horse Showing
Horse Shows
Horse Summer Camps
Horse Training Available
Horseback Riding
Horseback Riding Day Camps
Horseback Riding Lessons
Horsemanship 101 Summer Camp
Horsemanship Lessons
Horses For Lease
Horses Provided
Hunter
Hunter - Jumper Barn
Hunter Jumper
Hunter-Jumpers
Hunter/Jumper
Hunters
Hunters/jumpers
Huntseat
In-House Horse Shows
Jumping
Jumping And Introductory Dressage For More Advanced Students. M
Kids
Kids Camp
Leasing
Lessons
Life Long Lessons
Mini Camps
Natural Horsemanship
Obstacles
Painting Horses
Party
Poles
Ponies
Pony Club
Pony Parties & Rides
Pony Rides
Private Balance Seat Riding Lessons
Private Instrtuction
Private Instruction
Quality Instructors
Receptions
Rides
Riding Lessons
Saddle
Safety Is Top Priority
Sales
Schooling Shows On Ground
Scouting Events
Show Team
Showing
Showmanship
Single Day And 2-Day Boot Camps
Special Events
Stalls Available
Summer Camp
Summer Camps
Swimming
Swimming Pool
Tacking
TONS OF FUN
Training
We Also Have Lessons
Weekend Camps
Well Mannered Horses
Western
Western Dressage
Western Riding
Western Riding Lessons
Winners