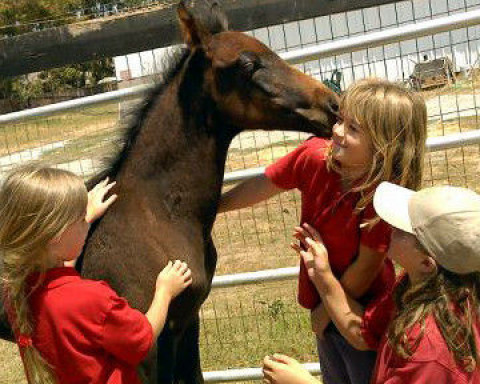 Johnny 6 Stables riding camps is for every young person who loves a horse, and wants to learn to care for, ride and handle a horse safely. Geared for horse lovers ages 6 to 12, the Johnny 6 Stables Beginner/Intermediate Camp is jam-packed from all day with horsey fun and learning. Because this camp is so popular, we are offering in the summer as well.
Campers will learn the foundations of horse skills including how to:
safely catch, halter, and walk a horse on a lead
safely groom a horse from head to toe
learn to recognize and use the eight different standard grooming tools
learn to clip a horse's feet, legs and bridle path
learn the parts of the horse, parts of the hooves, and parts of the tack
learn to safely tack a horse by themselves
learning to mount and dismount a horse safely including emergency dismounting
Some of the camp activities for this group will include taking a daily riding lesson, daily horse trivia, helping feed the horses each day and learn about the proper feeding of horses, helping a farrier take off a horse shoe, trim and hoof and reapply a horse shoe, working alongside a Johnny 6 Stable instructor learning the basics of training a horse, learning to hook a horse to a cart and drive a horse alongside a Johnny 6 Stable trainer, plus horsey craftand arts!
Johnny 6 Stable Camps run throughout the year, Summer, Thanksgiving, Christmas and Easter Break.
Beginner - Intermediate (ages 6 - and up)
Camp is from 9:00 a.m. till 4:00 p.m. Monday - Friday for $300 per week. Early and Late daycare is available for $5 per hour.
Payment Policies
A $100 non-refundable deposit is required to hold your childs spot. Camp is $300 per week. Riders may like to bring a friend with them and they can also sign up at $75 a day. Johnny 6 Stables Horse Camp Polo ($25) is available for your child to wear to camp. Please pack your childs own lunch and snacks, water is provided. visit www.johnny6.com for more info