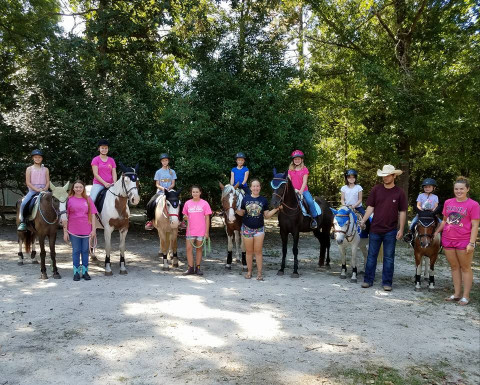 PLEASE CONTACT US BY PHONE OR EMAIL Or visit our Webpage at www.ponygang-farm.com !!!
Don't let our name fool you! Our Farm has all sizes from a Miniature up to a OTTB with 16.3 hands. From a Beginner safe horse to a Show Jumper.
The Pony Gang Youth Horseback riding Camps in Camden, South Carolina are an awesome experience for horse-crazy kids and first-time riders alike! We offer an All Girls Residential Camp ages 8 -15 years and an Day Camp for Boys and Girls ages 6 - 15 years.
We serve with our Summer Camps not only Kershaw County, but also welcome Campers from Columbia, Sumter, Hartsville and other local areas for our Day Camps. Our Residential Campers come from all over South Carolina, North Carolina, Georgia and Florida.
Learn how to improve your riding skills in both English and Western disciplines (rider's choice). Campers will learn different horse behaviors, ride several horses to determine ability. Some campers are assigned one permanent mount for the week / stay (generally more experienced campers receive single horse assignments), while others share horses due to varying ability levels. For this reason, we suggest that campers choose a two-week program as it takes a rider a little while to adjust to the horse, and if possible, the camper will get an independent horse assignment for the rest of his/her stay at camp.
Here, at Pony Gang Equestrian Youth Camps we want to see your children embrace & share the wonders of being an Equestrian, form life-long friendships, improve habits and responsibilities. Our program fosters adolescent independence & teamwork through character development. Our riding lessons use methods of natural horsemanship and will help develop balance, coordination and teach the imperative communication between the child and the horse.
Your
Pony Gang Team
--------------------------
PLEASE CALL US OR SEND US A EMAIL TO OUR BELOW EMAIL ADDRESS! WE DO NOT RECEIVE YOUR CONTACT INFORMATION OR OTHERWISE!
PONY GANG EQUESTRIAN SERVICE
393 FROST ROAD
CAMDEN SC 29020
www.ponygang-farm.com
Specialties
Activities
Advanced English Camps
Affordable
Arena
Barrels
Basics
Beautiful Facility
Beginner To Advanced Riding Lessons
Beginners - Experienced Riders
Beginners Welcome!
Christian
Clean
Confidence Building
Dressage
Educational Clinics
English & Western
English Riding Lessons
Equine Summer Camp
Equitation
Excellent Instruction
Family Oriented
Farm
Field Trips
Fishing
Full Service Riding Facility
Fun
Gift Certificates
Girl Scout
Great Way To Learn About Horses
Groups
Homeschool Programs
Horse & Pony Birthday Parties
Horse Boarding Available
Horse Camps
Horse Education
Horse Showing
Horse Summer Camps
Horse Training Available
Horseback Riding Day Camps
Horseback Riding Lessons
Horsemanship Lessons
Horses Provided
Hunter
Hunter Jumper
Hunter/Jumper
Hunters
Jumping
Kids
Lessons
Natural Horsemanship
Painting Horses
Party
Photography
Poles
Ponies
Pony Club
Private Balance Seat Riding Lessons
Quality Instructors
Rides
Safety Is Top Priority
Show Team
Special Events
Summer Camp
Swimming
Tacking
Weekend Camps
Well Mannered Horses
Western
Western Dressage
Western Riding
Western Riding Lessons