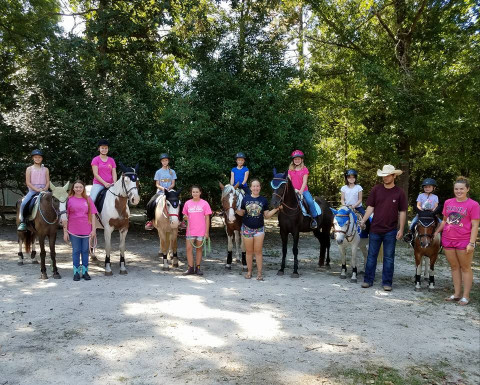 PLEASE CONTACT US BY PHONE (803) 374 2155 OR EMAIL ponygangfarm@gmail.com Or visit our Webpage at www.ponygang-farm.com !!!
Don't let our name fool you! Our Farm has all sizes from a Miniature up to a OTTB with 16.3 hands. From a Beginner safe horse to a Show Jumper.
YOUTH SUMMER CAMPS
We offer you Sleepaway/Overnight horseback riding camps for girls ages 8 - 15 years for only $ 680 (incl. 2 Field trips during their stay!!). Drop of Sunday 6 pm and Pick up Saturday 12 pm.
Our clients come from all over South Carolina and even Florida, Georgia and North Carolina.
Summer Camps have a great benefit for children - Camps sets you up for success in life.
Camps are fun, and children make friends who one day may be roommates, or in their wedding... Children experience at Camp things they won't at home.
Camp is about fun & development.
Pony Gang Equestrian Services offers you a wide Range of Daily Activities in our Camps!
• Horses • Farm animals • Fishing • Art • Games •
We believe in providing an amazing experience for each camper that becomes a part of our Pony Gang
Our activities are evaluated every year based on camper experiences from the previous summer. We want to offer the best program to our Campers, every year.
IS ONE OF OUR CAMPS RIGHT FOR YOU?
Our facility is amazing. We love sharing our idyllic location in the wonderful country side of Kershaw County in South Carolina with our campers. Kids that come to our Camps often can't wait to return in the next summer.
Pony Gang Farm owners, and their staff are dedicated to the mission and benefits that summer camp offers. They strive to make sure that every child that spends time at Pony Gang Farm experiences love, acceptance, and fun!
Our Equestrian Overnight Area gives the girls a feel of home. Six to eight happy campers, along with our Overnight counselor, will share this 1300 square feet area. All our Campers will together with our staff members set out for daily adventures, enjoy exciting activities and explore this magical place called Pony Gang Farm.
Summer Camp Matters!
Studies have shown that kids who attend summer camp are more developed socially, emotionally, and intellectually – Pony Gang Farm fosters a unique growth and independence in children, and our kids leave camp prepared to thrive at home, in college, and in life.
WE ALSO OFFER DAY CAMPS FOR BOYS AND GIRLS CHECK OUT OUR WEBSITE https://www.ponygang-farm.com/youth-equestrian-farm-camps/ FOR MORE INFORMATION!!!!!!!!
Your
Pony Gang Team
--------------------------
PLEASE CALL US OR SEND US A EMAIL TO OUR BELOW EMAIL ADDRESS! WE DO NOT RECEIVE YOUR CONTACT INFORMATION OR OTHERWISE!
PONY GANG EQUESTRIAN SERVICE
393 FROST ROAD
CAMDEN SC 29020
(803) 374 2155
www.ponygang-farm.com
ponygangfarm@gmail.com
Specialties
Activities
Advanced English Camps
Affordable
Arena
Barrels
Basics
Beautiful Facility
Beginner To Advanced Riding Lessons
Beginners - Experienced Riders
Beginners Welcome!
Christian
Clean
Confidence Building
Dressage
Educational Clinics
English & Western
English Riding Lessons
Equine Summer Camp
Equitation
Excellent Instruction
Family Oriented
Farm
Field Trips
Fishing
Full Service Riding Facility
Fun
Gift Certificates
Girl Scout
Great Way To Learn About Horses
Groups
Homeschool Programs
Horse & Pony Birthday Parties
Horse Boarding Available
Horse Camps
Horse Education
Horse Showing
Horse Summer Camps
Horse Training Available
Horseback Riding Day Camps
Horseback Riding Lessons
Horsemanship Lessons
Horses Provided
Hunter
Hunter Jumper
Hunter/Jumper
Hunters
Jumping
Kids
Lessons
Natural Horsemanship
Painting Horses
Party
Photography
Poles
Ponies
Pony Club
Private Balance Seat Riding Lessons
Quality Instructors
Rides
Safety Is Top Priority
Show Team
Special Events
Summer Camp
Swimming
Tacking
Weekend Camps
Well Mannered Horses
Western
Western Dressage
Western Riding
Western Riding Lessons