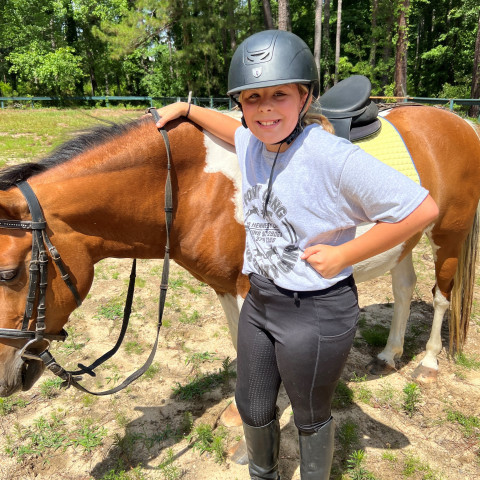 We are a private horseback riding summer camp and offer a residential horse camp and day horseback riding camp for girls ages 7 - 15 years old.
Since the summer of 2022 is our horseback riding camp Columbia located at our new location in Hopkins South Carolina. For the past 9.5 years before this have we been located in Camden SC.
Our history of our affordable horse camp and our set up at our new location sets us apart from other girls summer camps. Limiting our campers enrollment allows us to offer you an affordable horse camp that emphasize the "family" atmosphere we feel is so important. Relationships develop among all ages not just within the campers own age group.
Pony Gang Horse Crazy Camp offers a fun environment that helps to build self-confidence, self-awareness and self-acceptance. Our team members are wholesome role models who share common values and are dedicated to children. Our offered activities challenge and interest every camper.
Pony Gang Farm is a facility that is oriented to the most natural way of horse keeping with exciting programs, delicious home-cooked meals, horse experienced staff and a family environment conductive to a fun-filled, learning camp experience.
We offer not only riding lessons to our campers, but we also have beginner trick riding and equestrian vaulting lesson. And we have a light focus on stablemanagement and horse care. Arts and Crafts, games and more make our camp a perfect place to spend the summer.
PLEASE CALL US OR SEND US A EMAIL TO OUR BELOW EMAIL ADDRESS! WE DO NOT RECEIVE YOUR CONTACT INFORMATION THROUGH THE SITE HERE!
PONY GANG EQUESTRIAN SERVICE
- Pony Gang Camp -
223 Hennesy Lane
HOPKINS, SC 29061
https://www.ponygang-farm.com/horse-camps/
Specialties
Activities
Advanced English Camps
Affordable
All Girls Sleepaway Camps
Arena
Barrels
Basics
Beginner To Advanced Riding Lessons
Beginners - Experienced Riders
Beginners Welcome!
Clean
Confidence Building
English & Western
English Riding Lessons
Equine Summer Camp
Equitation
Excellent Instruction
Family Oriented
Farm
Fishing
Fun
Gift Certificates
Great Way To Learn About Horses
Horse Camps
Horse Education
Horse Summer Camps
Horseback Riding Day Camps
Horseback Riding Lessons
Horsemanship Lessons
Horses Provided
Hunter
Hunter Jumper
Hunter/Jumper
Hunters
Jumping
Kids
Lessons
Natural Horsemanship
Overnight Camps
Painting Horses
Ponies
Quality Instructors
Residential Camps
Rides
Safety Is Top Priority
Sleep Away Camps
Summer Camp
Swimming
Tacking
Well Mannered Horses
Western
Western Dressage
Western Riding
Western Riding Lessons