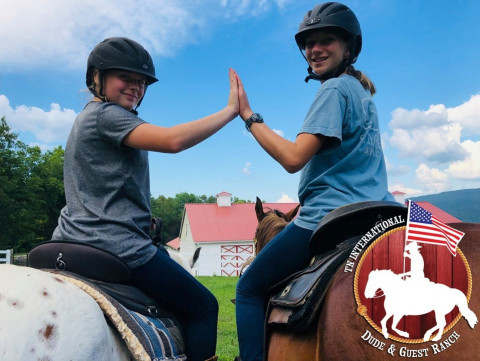 There's a lot of HORSIN' AROUND here at the Tennessee Guest Ranch because each National Horse Camper receives his or her 'very own' Guest Ranch Horse at check in...for the duration of their stay! This horse will become your child's faithful companion during their National Horse Camp adventure! This one or two week long program is a 'horse power' experience your kids will never forget! With only 10-12 campers allowed per session, parents can rest at ease and know that each child will receive all of the personal attention they need during their stay at our Tennessee Guest Ranch.
Students spend hours upon hours in the saddle under the direction of well-trained equestrian instructors. Whether it's Hunter/Jumper Lessons, Western Trail Riding, Drill Team Performances, or Bareback Games campers always have a blast all while improving their horsemanship skills each time they mount their trusty steeds! Young Equestrians at the Tennessee Guest Ranch learn about horses from the ground up! While learning and caring for their horse daily, participating in feeding and nutritional programs, hoof care and farrier education and medical care...each horse lover will also learn all about what the Bible has to say about horses and all of God's magnificent creation surrounding the Ranch!
Veterinary Science is a critical component of this incredible program! Each young equestrian will acquire an enormous "in depth" knowledge of veterinary science and animal husbandry. For the serious horse enthusiasts who are considering becoming a veterinarian, there's even more to learn in our pre-veterinarian courses! Learn how to give shots, check for parasites, pull blood, administer medications, treat and prevent leg injuries, and lots more!
Evening time brings mounted fun, bareback games, cook outs, marshmallow roasts, night time swims, and a Southern Bell Etiquette Dining Course!
For this year's National Horse Camp session dates, price, or registration packet, please Pony Express your E-mail and contact us TODAY!
Specialties
Arena
Beginner To Advanced Riding Lessons
Beginners - Experienced Riders
Beginners Welcome!
Clean
Covered Arena
Dressage
English & Western
English Riding Lessons
Equine Summer Camp
Equitation
Family
Fun
Great Way To Learn About Horses
Guided Trail Riding
Horse Education
Horse Summer Camps
Horseback Riding Lessons
Horsemanship Lessons
Horses Provided
Hunter Jumper
Jumping
Lessons
Onsite Lab & Animal Exam Room
Ponies
Pre-Vet Programs
Quality Instructors
Safety Is Top Priority
Well Mannered Horses
Western
Western Riding