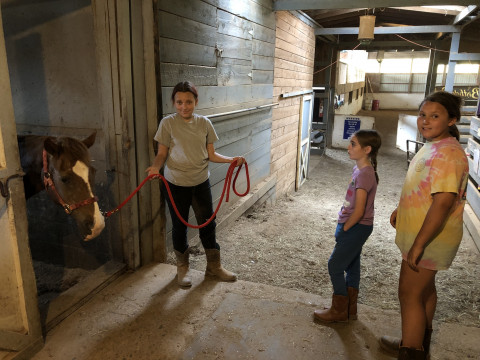 Discover the Thrilling Adventures at Elysian Fields Equestrian Center's Horsemanship Summer Day Camp!
Calling all horse enthusiasts in Lycoming County, PA, and beyond! Elysian Fields Equestrian Center is delighted to invite you and your child to our exhilarating Horsemanship Summer Day Camp. Located just five miles north of Walmart in Montoursville, PA, this program offers an incredible opportunity for youth to learn all about horses and experience the joys of horse ownership firsthand. Get ready for a summer of fun, learning, and unforgettable memories!
Our summer day camps are open to horse lovers of all abilities, from beginners to advanced riders. Starting from Monday, June 5th, and running throughout the entire summer until Friday, September 1st, each week is packed with exciting activities and valuable lessons. Our camp schedule is designed to seamlessly fit into your daily routine, with convenient drop-off as early as 7:00 AM and pick-up as late as 6:00 PM. We understand the importance of flexibility for busy families, so please let us know if you require early drop-off or late pick-up arrangements.
Full-day camp enrollment is available for $400 per week, providing a comprehensive experience for your child. Additionally, we offer half-day camps for 5-7 year olds in the afternoons from 1 PM to 5 PM. These young equestrians will also graduate, participate in the show at 5 PM on Friday, and receive a well-deserved certificate alongside their full-day camp peers. Half-day camp enrollment is priced at $200 per week. To check availability and make reservations for half-day campers, please contact us directly, as online booking is exclusively available for full-day campers.
Enrolling your child with a sibling or their BFFs brings even more benefits! Each additional camper enrolled together saves $50 off their total enrollment fee, making the experience even more rewarding. And here's a special treat for those who enroll at least two weeks prior to their chosen camp start date—your camper will receive a FREE 2023 Elysian Fields Equestrian Center Summer Day Camp T-Shirt to wear proudly throughout their week of camp and during the graduation ceremony.
To secure your child's spot at our summer day camp, the quickest and simplest way is to visit our website and select the desired week for your reservation. A $100 deposit is required, and you can easily complete this step online. Additionally, we kindly ask you to fill out the emergency contact waiver form on our website, ensuring we have all the necessary information to provide a safe and enjoyable experience for your child. Please remember to select 'Day Camp' and the correct start date on the waiver form, as this will be used for our camp roster.
To maintain a personalized and enriching experience for every camper, each week is limited to a maximum of 15 participants. With up to three full-time instructors and additional part-time helpers, we can ensure smaller groups of five campers per instructor, providing personalized attention and enhanced safety throughout the camp activities.
At Elysian Fields, we pride ourselves on offering a camp program that matches the energy and creativity of our campers. Our themed and carefully programmed activities cater to campers aged 6-17 (completed grades K to 11th), providing a well-rounded experience tailored to their skill levels and age-appropriate interests. From engaging small group games and events to targeted activities that develop specific equestrian skills, our campers will be fully immersed in the equestrian lifestyle
Specialties
Activities
Arena
Astm/cei Equestrian Helmets Are Provided
Barrels
Basics
Beginner To Advanced Riding Lessons
Beginners - Experienced Riders
Beginners Welcome!
Covered Arena
Educational Clinics
English & Western
Equine Summer Camp
Excellent Instruction
Family
Family Oriented
Full Service Riding Facility
Fun
Great Way To Learn About Horses
Horse & Pony Birthday Parties
Horse Boarding Available
Horse Education
Horse Summer Camps
Horse Training Available
Horseback Riding Day Camps
Horseback Riding Lessons
Horsemanship Lessons
Horses Provided
Kids
Lessons
Lunches and Snacks Included
Photography
Ponies
Pony Parties & Rides
Quality Instructors
Safety Is Top Priority
Special Events
Well Mannered Horses
Western
Western Riding