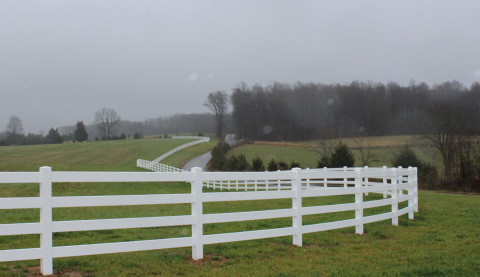 We are Virginia and North Carolina's premier fence contractor, installing quality horse fencing since 1999! We have experience in and install almost every style of horse fencing on the market. We take pride in our workmanship and customer service.
We specialize in Centaur HTP® flexible rail fencing and are factory trained installers who take pride in quality installations. We also install board fence, non-climb horse wire, polymer coated high tensile wire, PVC/vinyl fencing, split rail, electric tape fence, and more!
We also install round-pens, automatic gate openers, and gate entryways. Offering grading and mini-excavating work, and design consultation services on the layout of fencing, barns, and property. Please contact us today; we would like to serve you!
Specialties
2, 3 & 4 Rail Vinyl Horse Fence Construction
2, 3 & 4 Rail Wood Horse Fence Construction
ALL CUSTOM FENCING YOU NEED
All Types Horse Fence
Aluminum Fences
Automatic Horse Waterers & Hydrants
Built With Quality Products
Cattle Fencing
Centaur HTP® Fencing
Centaur Polymer Fencing
Certified Fence Professional
Chain Link
Chainlink
Commercial Fence
Commercial Fences
Custom Fence Entry Gates
Custom Gates
Custom Horse Corrals
Deer Fence Construction
Design And Consultation Services
Drainage Solutions
Electric
Electric Fence
Electric Rope
Electric Tape
Entry Gates
Excavating
Excavation Services
Farm Fence Of All Types
Fence Painting
Fence Repair
Field Fence
Fixed Knot Fences
Gate Automation
Gate Operators
Gated Entrance Specialist
High Tensil Wire Fencing for Horses
Horse Fence & Run-In's
Hot Cote Fence
Licensed & Insured
Lifetime Lumber
Onsite Welding
Pasture Maintenance
Pasture Mowing
Post Driving
Red Brand Non-Climb
Residential Fences
Residential Fencing
Retaining Walls
Round Pens
Run-ins
Shelters
Split Rail Fence
Stay Tuff High Tensile Wire
Steel Pipe Rail Fence
Weed Control
Woven Wire