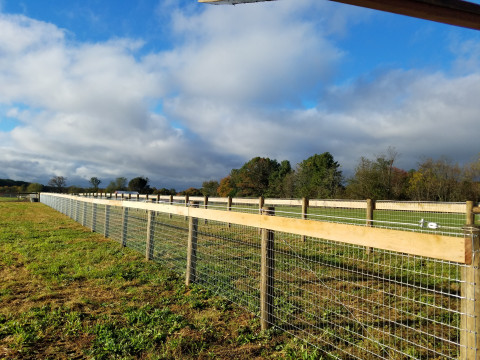 Our mission at Sunrise Valley Fence is to provide outstanding customer service while offering high quality fence products and installation.
Contact us today for a free estimate. . Our experience ensures quality fences built to last a lifetime.
Whether you're looking to create a safe environment for your Horses/Livestock or adding value and character to your property Sunrise Valley Fence has what it takes to provide the most for your investment.
Specialties
2, 3 & 4 Rail Vinyl Horse Fence Construction
2, 3 & 4 Rail Wood Horse Fence Construction
3-Rail
ALL CUSTOM FENCING YOU NEED
All Types Horse Fence
Aluminum Fences
Barb Wire Fences
Barn & Pasture Placement
Barn Construction
Built With Quality Products
Cattle Fencing
Centaur Polymer Fencing
Combination Horse Fencing
Commercial Fence
Commercial Fences
Complete Horse Farm & Stable Services
Concrete Work
Custom Barns
Custom Fence Entry Gates
Custom Gates
Custom Horse Corrals
Deer Fence Construction
Design And Consultation Services
Drainage Solutions
Electric Fence
Electric Rope
Electric Tape
Farm Fence Of All Types
Fence Painting
Fence Repair
Finish Line Fences
Fixed Knot Fences
High Tensil Wire Fencing for Horses
Horse Fence & Run-In's
Hot Cote Fence
Licensed & Insured
Pasture Maintenance
Pasture Mowing
Pet Fences
Post Driving
Preifert
Red Brand Non-Climb
Residential Fences
Residential Fencing
Retaining Walls
Round Pens
Run-ins
Shelters
Speciality Gates
Split Rail Fence
Stay Tuff High Tensile Wire
Steel Pipe Rail Fence
Vinyl Or Wood Privacy Fence
Weed Control
Wood Picket Fences
Wood Privacy Fences
Woven Wire
Your Full Service FENCE COMPANY.