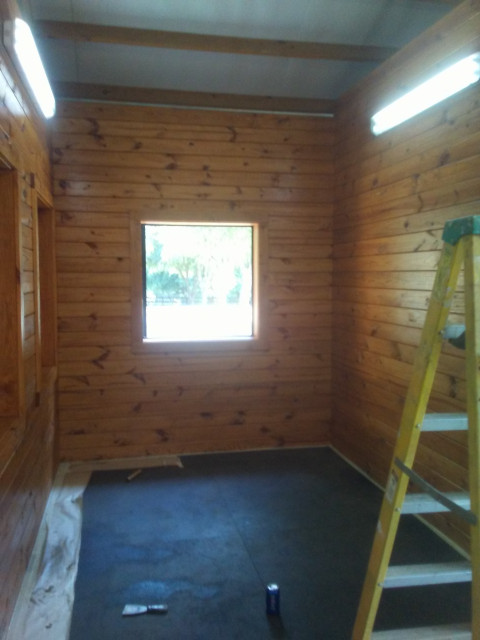 Non Climb Horse Wire Fence
A great option for horse owners who also keep small livestock.
May help deter wild animals and dogs from getting into pastures.
2" x 4" spacings; small enough to keep a horse's foot from getting trapped.
We install and recommend a class 3 galvanized wire. This is a stronger, longer lasting galvanized wire then the class 1 wire found in most farm stores. The wire has 2" x 4" openings, which are small enough openings to prevent a horse from getting his foot through the wire, like the dangerous woven wire fencing used for cattle. The posts should be spaced no more than 10 feet apart.
We recommend installing the Centaur HTP horse fencing or an oak or pressure treated board above the wire to prevent the horse from leaning over it and causing it to bow
.Oak and Pressure Treated Pine Board Fencing
If you like the traditional look of board fence, we offer installation of various designs, including treated pine, oak board, hemlock board, stained or painted board fence.
Professionally installed straight fence lines
Quality pressure treated posts
Experienced installers
We can also stain your fence!
Installation Recommendations for Board Fencing
we take great care and pride in ensuring that your fence line is straight and professionally completed.
We recommend using round 4 to 5" or 5 to 6" round posts instead of square posts because they are stronger and do not warp or break as quickly as some square posts can. There is also less surface area for water to lay behind a board, reducing the chance of boards rotting.
Specialties
2, 3 & 4 Rail Vinyl Horse Fence Construction
2, 3 & 4 Rail Wood Horse Fence Construction
3-Rail
ALL CUSTOM FENCING YOU NEED
Barb Wire Fences
Barn Construction
Barn Painting
Barn Repair
Barn Repairs
Barn Restoration
Built With Quality Products
Cattle Fencing
Centaur Polymer Fencing
Chain Link
Chip And Seal Drivways
Clear Coat
Commercial Fences
Custom Fence Entry Gates
Custom Gates
Custom Horse Corrals
Decks
Deer Fence Construction
Driveway Paving
Electric Fence
Entry Gates
Farm Fence Of All Types
Fence Coating
Fence Repair
Fence Repairs
Finish Line Fences
Fixed Knot Fences
Grading
High Tensil Wire Fencing for Horses
Hog Wire
Hot Rubber Post Capping
Lifetime Lumber
Paint
Painting
Pasture Maintenance
Pavers
Pet Fences
Protective Coating
Red Brand Non-Climb
Residential Fences
Residential Fencing
Retaining Walls
Roof Coating
Round Pens
Rubber Fence Coating
Run-ins
Sealcoating
Shelters
Split Rail Fence
Staining
Stalls
Stay Tuff High Tensile Wire
Steel Pipe Rail Fence
Waterproofing
Weed Control
Wood Picket Fences
Wood Privacy Fences
Woven Wire
Wrought Iron Fences & Gates