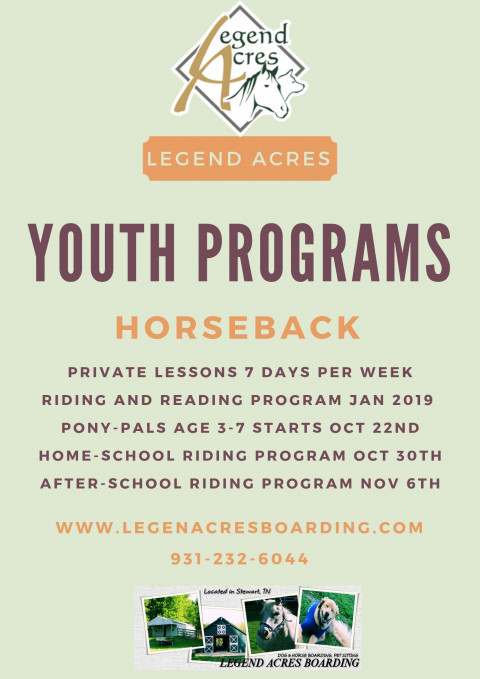 Legend Acres offers affordable long and short term Horse Boarding Services. We provide Exceptional 24/7 Full Service, Worry Free Care, by CHA Certified qualified staff. Your Horses stay includes our Equine Wellness Program consisting of veterinary visits, daily turnout, and personal attention to meet the needs of Military and Working Families.
Your Horse's Home away from Home or New Home includes hundreds of Acres of trails where your Horse will be able to enjoy the outdoors one on one. Legend Acres is unique in that each boarding package is unique to meet the needs of owner and to provide optimal care for your hours. All horses are turned out daily and are supervised. Our staff provides affection, and attention in a stress free living environment.
Legend Acres is ideal for short or long stays and where owners can enjoy a Guilt Free and Worry Free time away from their horses and know that while they are gone their horses are receiving exceptional personable care.
Our mission is to provide a safe, clean, healthy and happy environment for horses where our philosophy is to provide friendly and flexible care to keep you and your horse(s) happy. We provide pick up and drop off seven days a week. Clients are also welcome to view the facilities by prior arrangement by appointment. It is vital for all our guests to feel comfortable in our calm and relaxed environment.
Legend Acres has a quarantine policy in place to ensure your Horse has a healthy, clean, and stress free introduction to our herd.
Legend Acres is Small Barn with great barn family atmosphere Providing Large Barn Services.
Large stalls $150 a month.
Large stall with dry paddock turn out is $180 a month.;
Pasture boarding $130 a month.
10% Military Discount
All stall boarding includes use of pastures for grass or turn out.
All Boarding includes two feedings morning and evening, daily stall cleaning, and stalls are cleaned out and fresh wood shavings put down every other Saturday.
;Pasture Boarding has a run in shelter for bad weather. Barn temperature is regulated in winter months with Infrared Heat.
Feeding fee of $8.50 a bale, if we supply hay. Hay storage is available to you.
Current Hay is Bermuda.
Trailer parking available.
Use of 500 acres of trails, outdoor arena, and round pen.
Tack and feed storage available for your convenience
Equine Wellness Program
Farrier service offered every 6-8 weeks.
Equine Dentist offered every 6 months.
Equine Chiropractor offered every 6 months.
Fecal Testing every 2-4 months.
Tick and Fly replant applied according to your preference. We recommend Farnam Equi-Spot a two week drop, similar to flea and tick control in dogs.
Barn Area is treated with Diatamaceous Earth to control flies and ticks
Large animal Vet Services available during and after hours.
Boarding Requirements
Negative Coggins required and rabies vaccinations.
Provide all grain feed and supplements
Month to Month lease or short term boarding available.
For availability and to set up a tour of our facility call or email
Specialties
2. Veterinary Available
4-H
A Multi Discipline Facility That Is Meticulously Maintained
Affordable Horse Boarding Rates
All Breed Facility
All Breeds And Disciplines Are Welcome
All Disciplines and Riding Levels Welcome
And Lessons Available.
And Providing Lessons For Beginner And Intermediate Rider
APHA
AQHA
Arabians
Arena
As Well As Individual Paddocks. Full Car
Barrel Racing
Bathroom
Beautiful
Beginner Lessons On Own Or School Horses.
Blanketing
Board
Boarding
Breaking
Broodmare And Foal Care
CHA Certified Facility
CHA Certified Instructor
CHA Certified Riding Instructors
CHA Equine Management Certified
Church Groups
Colt Starting
Contact Us For Details.
Cross Country
Daily Handling Of Horses
Daily Individual Turnouts
Daily Pasture Turn-out
Daily Stall Cleaning
Daily Turn Outs
Dressage
Driving
Education
English
English Pleasure
Equitation
Eventing
Excellent Care
Farm Sitting
Farrier On Call
Farrier Services
Full Service Boarding Facility
Full Service Private Stable With A Family Atmosphere
Full Tack Room
Full Time
Gaited Breeds
Geriatric Horse Care
Grained Twice Daily
Grass
Grass Fields
Great Care
Great For Retired Horses
Grooming
Group Activities
Group Instruction
Group Lessons
Gymkhana
Horse
Horse Injury Rehabilitation
Horse Leases Available
Horse Rescue and Adoption
Horse Retirement Care
Horse Sales Preparation
Horse Summer Day Camp for Kids
Horse Training
Horse Transport Available
Horse/Pony Birthday Parties
Horseback Riding Lessons
Horses for Sale
Horses For Sale And Lease
Hunter Jumper
Hunter Under Saddle
Hunters
I Personally Care For Each Horse In This Facility.
Ideal For The Multi-horse Owner
Individualized Care
Jumper
Jumping
Lay-ups
Layovers, Stopovers
Layups
Leasing
Lesson Horses
Lessons
Lessons Available
Lodging And Camping
Longe Line Lessons
Loving Farm
Natural Horsemanship
Obstacle Course Training.
Open 7 Days a Week
Outdoor Arena
Overnight Stabling
Owner On Premises
Owners Live On Site! We Know What Our Horses Want 24 Hours A Day
Pasture
Pasture Board
Pastures
Peaceful & Quiet Setting
Peaceful And Relaxing
Personal Attention Given To Each Horse And Human
Personalized Care
Personalized Horse Boarding Options Including: Grooming
Pole Bending
Pony Club
Private Riding Lessons
Problem Horses
Quality Care
Retirement With Full Care
Riding
Riding Camps
Riding Clinics
Riding Lesson Program
Riding Lessons
Riding Lessons for Adults
Riding Lessons for Children
Riding Trails Available
Round Pen
Saddleseat
Safety Courses
Schooling Shows
Showing Program
Stables
Stall Boarding
Starting Horses
Supporting All Breeds And Riding Styles
Tack Room
Therapeutic Riding Program
Trail Rides
Trail Riding
Trailer Parking Available
Trainer On-site
Training
United States
Veterinary Care
Wash Rack
We Live On Site
Weekly Stays
Western
Western Dressage
Western Pleasure
Working Student Program
Young Horse Training
Young Riders Welcome
Youth