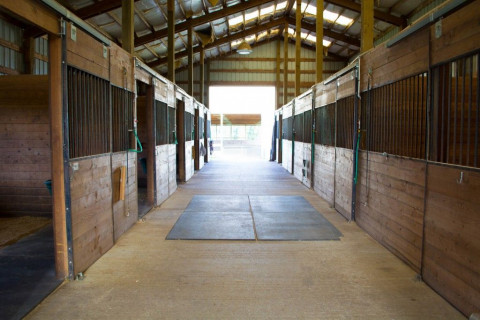 Find us on FACEBOOK. Quiet, relaxed environment for your horse and for you. Calm, kindly, reliable handling of horses, and individualized care when needed.
We are small, quiet, and our only focus is horse care.
Ten-stall barn on 40 acres of fields, woods and orchards, close to Hillsboro, Beaverton, Cornelius, Scholls, Hwy. 219, and Hwy 10.
* Stalls are 12 x 12, matted, and bedded with wood pellets, cleaned daily.
* Each stall has its own window; the barn is airy and light.
* Heated tack room.
* Hot and cold wash stall.
* Utility room has toilet and sink, and space for your medical supplies.
Turnout is every day from early morning to dark, all year round.
In fine weather, horses are turned out all night, too.
Herds are composed of compatible horses.
Fences are electric rope on Tposts.
We feed local grass hay according to your horse's needs, indoors and out.
* We will measure and mix your feed and supplements twice daily.
* Administer routine medications.
* Blankets and fly masks on and off according to boarders' preferences.
Arena is 80 x 200, covered, with sand footing, lighting, and sprinklers.
Round pen is 60' in diameter.
Ride around the farm's perimeter and through the woods and orchards.
Off-farm riding is available, too.
Our facility is well organized and predictable. Our boarders are friendly, mature, and come for the horse care and quiet.
Owners live on the farm and so does part of the chore crew, so the horses are looked after day and night.
Text:
Email:
Specialties
All Breeds And Disciplines Are Welcome
Arena
Beautiful
Blanketing
Board
Boarding
Covered Arena
Daily Handling Of Horses
Daily Pasture Turn-out
Daily Stall Cleaning
Daily Turn Outs
Excellent Care
Feed And Supplements Measured And Mixed
Fly Masks
Full Service Boarding Facility
Geriatric Horse Care
Grass Fields
Hay Fed As Your Horse Needs
Individualized Care
Medications Given
Open 7 Days a Week
Pastures
Peaceful & Quiet Setting
Personal Attention Given To Each Horse And Human
Personalized Care
Rational Horse Care
Retirement With Full Care
Riding Trails Available
Round Pen
Slow-feed Hay Nets
Stables
Tack Room
Trail Riding
Trailer Parking Available
Wash Rack