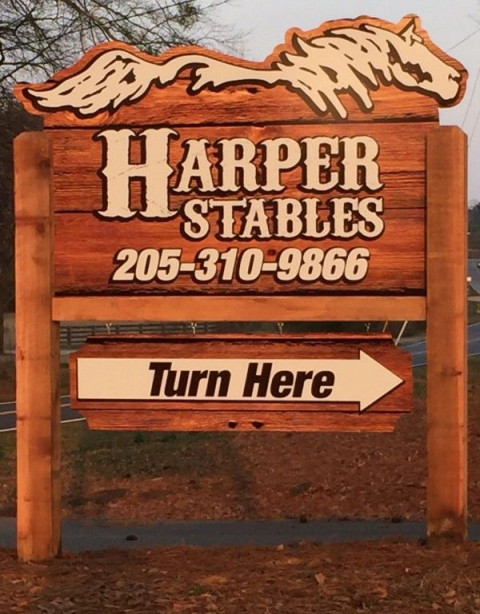 Harper Stables is a 40-acre horse boarding business nestled in the western section of Tuscaloosa County. Located in Northport – only minutes away from the University of Alabama's campus and downtown Tuscaloosa.
The stall boarding facilities at Harper Stables consist of two barns that are able to accommodate fifteen horses. There are nine stalls in the main barn and six stalls in the row barn. Each stall has automatic water, hay racks and corner feed buckets.
The main barn houses three tack rooms, two wash stalls and four cross-tie areas. Also, located just outside the main barn is a hitching post.
The property offers ample green grass for your horse whether it is stall boarded or pasture boarded. In order to make certain there is sufficient green grass during the dry summer months, an irrigation system waters some of the pasture and turn-outs. There are plenty of shade trees to provide a cooler spot for your horse during the hot summer days.
The pasture boarded horses have plenty of room to roam in the partially wooded 30 acre pasture that has a creek meandering along the eastern border of the property and a pond that is framed by trees.
During the warmer months, the stall boarded horses are turned out every evening. The rotation switches during the cooler months.
The feeding schedule consists of the stall boarded horses being fed twice a day in their stalls and the pasture boarded horses being fed once a day in individual feeding stations. During the winter months, since the grass supply is significantly less, round bales of hay or square bales of hay are distributed in the pasture and in turn-outs.
Some additional amenities that are offered at Harper Stables are:
Sixty-Foot Round Training Ring
Lighted Riding Ring
Irrigation System in Sections of Pasture for both Stall Boarded and Pasture Boarded Horses
Health Requirements
Proof of current Coggins test
Yearly shots
Wormed every three months
Stall Boarding Fees
$395.00 per month
Pasture Boarding Fees
$235.00 per month
Here at Harper Stables we view all of our boarders as an extension of our family. We welcome you to come by and visit us.
Happy Trails!
Contact Information:
Bruce Harper
5321C Flatwoods Road
Northport, AL 35473
(205) 310-9866
harperstables@att.net
Specialties
Affordable Horse Boarding Rates
All Breeds And Disciplines Are Welcome
All Disciplines and Riding Levels Welcome
Beautiful
Blanketing
Board
Boarding
Daily Handling Of Horses
Daily Pasture Turn-out
Daily Turn Outs
Full Service Boarding Facility
Grass
Grass Fields
Open 7 Days a Week
Outdoor Arena
Pasture Board
Pastures
Peaceful & Quiet Setting
Round Pen
Stables
Stall Boarding
Trail Riding
Wash Rack