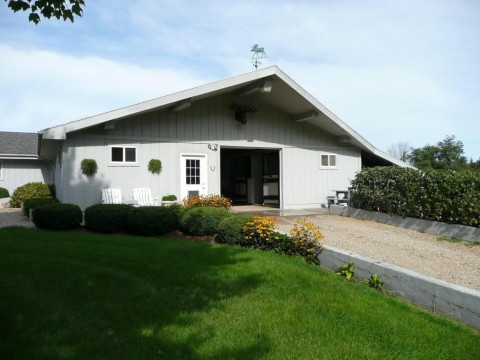 We are a small, private barn in the Lowell, Cascade, Ada area. The facilities and care are exceptional. The owners have a wealth of riding and horse care experience. Each horse is cared for according to it's own needs. The stalls are cleaned 2-3 times a day and high quality feed is provided according to individual dietary needs.
The barn is HEATED, has automated fly system, matted floors and walls, large fans and lights for each stall, the wide airy aisles and is kept exceptionally clean. Attention is paid to excellent ventilation.
Dailey turnout, either in paddocks or large grass pastures. Horses are turned out individually or with another according to horse's temperament and comfort. Horses are blanketed in appropriate clothing and protective gear as needed.
The indoor and outdoor rings both have watering systems and are beautifully maintained.
The property has a security system and someone is on property 24/7.
Full service (grooming, bathing, riding or training rides) are available when owners travel or "other" life gets in the way.
Our goal is to make very minute spent enjoying your horse and barn friends positive and memorable.
Specialties
Arena
Beautiful
Blanketing
Boarding
Daily Handling Of Horses
Daily Individual Turnouts
Daily Pasture Turn-out
Daily Turn Outs
Dressage
English
Full Service Boarding Facility
Geriatric Horse Care
Grass Fields
Horse Injury Rehabilitation
Horse Training
Horse Transport Available
Hunter Jumper
Individualized Care
Indoor Riding Arena
Jumping
Open 7 Days a Week
Outdoor Arena
Pastures
Peaceful & Quiet Setting
Personalized Care
Retirement With Full Care
Riding Lessons for Adults
Stall Boarding
Veterinary Care
Wash Rack