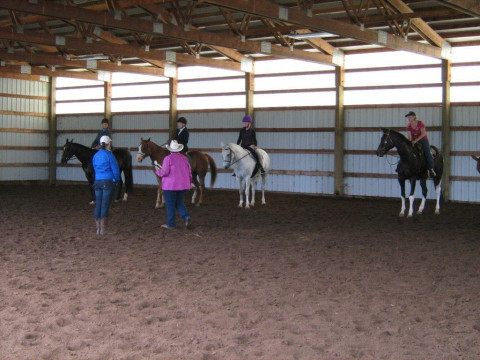 FYI: If you wish to contact us, please contact us directly. If you use the "shop around" feature, we will not receive your contact information even if we have what you want,. NewHorse only sends that info to it's premier advertisers. Please send an email directly to us or call. You can also visit our website and contact us through there.
We offer what we call "smorgasboard" boarding. Our basic full care includes hay fed twice/day or as needed, LMF Super Supplement daily or grain as needed, stalls cleaned daily, use of indoor arena, your supplements fed, owner may turn horse out in designated paddock while owner is present and starts at $265/mo. and then you add the options you want. The following optional items may be added to basic board. Daily turnout by management, pasture turnout weather permitting - $30.00/mo.
Blanketing and unblanketing as requested - $25.00/mo.
Fly masks and/or fly spray or roll-on, to be supplied by owner, applied as requested - $20.00/mo.
Daily grooming (Mon. - Sat.) - $75.00/mo.
Daily dewormer fed, ivermectin or moxidectin with praziquantel twice/year - $30.00/mo.
Handle horse for veterinarian or farrier - $20.00/hour, $5.00 minimum
Double sized stall - $25.00/mo.
Our retirement program offers everything you can think of for $445/mo. We also offer arena rental, arabian stud service, and tack sales. Our facility has a 70' x 144' covered arena on 5 acres. We have pasture turnout, automatic waterers, matted stalls, free trailer parking, hot and cold water wash rack, and owner on site. Stallions and trainers are welcome.
We also offer training, lessons and arabian stud service.
Specialties
Affordable Horse Boarding Rates
All Breeds And Disciplines Are Welcome
All Disciplines and Riding Levels Welcome
And Lessons Available.
And Providing Lessons For Beginner And Intermediate Rider
Arabian Stud Service
Arabians
Arena
Bathroom
Beginner Lessons On Own Or School Horses.
Blanketing
Board
Boarding
Breaking
Colt Starting
Daily Pasture Turn-out
Daily Stall Cleaning
Daily Turn Outs
Dressage
English
English Pleasure
Equitation
Eventing
Excellent Care
Full Service Boarding Facility
Full Tack Room
Geriatric Horse Care
Grass Fields
Great Care
Great For Retired Horses
Grooming
Group Instruction
Group Lessons
Horse
Horse Breeding Program
Horse Leases Available
Horse Retirement Care
Horse Training
Horseback Riding Lessons
Horses For Sale And Lease
Hunter Jumper
Hunter Under Saddle
Hunters
I Personally Care For Each Horse In This Facility.
Individualized Care
Indoor Riding Arena
Jumper
Jumping
Leasing
Lesson Horses
Lessons
Lessons Available
Longe Line Lessons
Loving Farm
Open 7 Days a Week
Owner On Premises
Owners Live On Site! We Know What Our Horses Want 24 Hours A Day
Pastures
Peaceful & Quiet Setting
Peaceful And Relaxing
Personal Attention Given To Each Horse And Human
Personalized Care
Private Riding Lessons
Quality Care
Retirement With Full Care
Riding
Riding Lesson Program
Riding Lessons
Riding Lessons for Adults
Riding Lessons for Children
Showing Program
Stables
Stall Boarding
Stallions
Starting Horses
Supporting All Breeds And Riding Styles
Tack Room
Trailer Parking Available
Trainer On-site
Training
United States
Wash Rack
Western
Western Pleasure
Young Horse Training
Young Riders Welcome
Youth