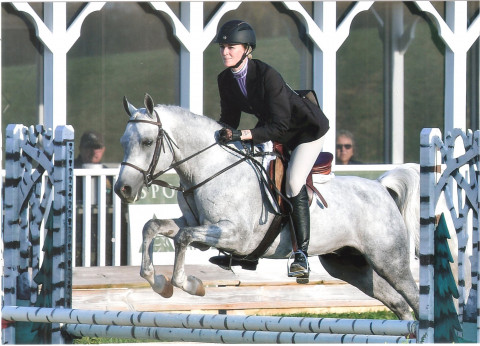 FYI: If you wish to contact us, please contact us directly. If you use the "shop around" feature, we will not receive your contact information even if we have what you want,. NewHorse only sends that info to it's premier advertisers. Please send an email directly to us or call. You can also visit our website and contact us through there.
We offer what we call "smorgasboard" boarding. Our basic full care includes hay fed twice/day or as needed, LMF Super Supplement daily or grain as needed, stalls cleaned daily, use of indoor arena, your supplements fed, daily turnout, starts at $360/mo. and then you add the options you want. The following optional items may be added to basic board.
Blanketing and unblanketing as requested - $25.00/mo.
Fly masks and/or fly spray or roll-on, to be supplied by owner, applied as requested - $20.00/mo.
Daily grooming (Mon. - Sat.) - $100.00/mo.
Handle horse for veterinarian or farrier - $20.00/hour, $5.00 minimum
Double sized stall - $25.00/mo.
Custom hay fed, grass or alfalfa as specified by horse owner instead of Pioneer Tack - $30
Our retirement program offers everything you can think of for $550/mo. We also offer arena rental, arabian stud service, and tack sales. Our facility has a 72' x 144' covered arena on 5 acres. We have pasture turnout, automatic waterers, matted stalls, free trailer parking, hot and cold water wash rack, pop machine, washer for boarder's use, and owner on site. Well behaved stallions and trainers are welcome.
We also offer arena rental and arabian stud service. We stand the arabian stallion, Ibn Imzadi, for a stud fee of $900.
IBN IMZADI , Arabian Breeders Sweepstakes Nominated Stallion
2021 Show Record Highlights:
Sport Horse Nationals Reserve Champion Sport Horse In Hand Stallions Dressage Type
Sport Horse Nationals Top Ten in Dressage Training Level, 14.2 & Under Working Hunter, Green Working Hunter and the
Combined Training Exhibition Class.
Region IV Champion Sport Horse in Hand Stallions Dressage Type, Sport Horse Under Saddle, Dressage Training Level, Working Hunter 2' and Working Hunter 2'9"
Region IV Reserve Champion Sport Horse in Hand Stallions Hunter Type
Region IV Top 5 Hunter Hack
This unbelievable stud fee is only available because I want some babies on the ground. You won't find better. Fabulous old CMK breeding with a touch of Polish, his 5 generation pedigree includes Darq Agent(Can. Nat. Res. Ch. Arabian Working Hunter), Darq+++, Gazon, Raffon++, Khemosabi++++//,Bay El Bey++, Bay Abi, Sakifa, *Bask, *Chutor+, Ferzon. Take his pedigree back one more generation and there is a third cross to Raffon, giving him 4 crosses to Gazon, plus adding Fadjur and Saki. Pedigree available at http://www.allbreedpedigree.com/ibn+imzadi. Possibly carries a black gene since his sire was black and there is black on both sides of his pedigree He comes from a sport horse family with close relatives that have competed successfully in dressage, working hunter, jumping and eventing. Athletic enough to sire foals in multiple disciplines. Officially standing 14 .1 ¼ hands, he is a perfect cross for pony hunters, Shipped semen available. Stud fee includes first collection. SCID, CA and LFS clear. LFG stands and nurses.
Specialties
Affordable Horse Boarding Rates
All Breeds And Disciplines Are Welcome
All Disciplines and Riding Levels Welcome
Arabian Stud Service
Arabians
Arena
Bathroom
Blanketing
Board
Boarding
Daily Pasture Turn-out
Daily Stall Cleaning
Daily Turn Outs
Dressage
Eventing
Excellent Care
Full Service Boarding Facility
Full Tack Room
Geriatric Horse Care
Grass Fields
Great Care
Great For Retired Horses
Grooming
Horse
Horse Breeding Program
Horse Retirement Care
Hunter Jumper
Hunter Under Saddle
Hunters
I Personally Care For Each Horse In This Facility.
Individualized Care
Indoor Riding Arena
Jumper
Jumping
Loving Farm
Open 7 Days a Week
Owner On Premises
Owners Live On Site! We Know What Our Horses Want 24 Hours A Day
Pastures
Peaceful & Quiet Setting
Peaceful And Relaxing
Personal Attention Given To Each Horse And Human
Personalized Care
Quality Care
Retirement With Full Care
Riding
Stables
Stall Boarding
Stallions
Supporting All Breeds And Riding Styles
Tack Room
Trailer Parking Available
United States
Wash Rack
Young Riders Welcome
Youth