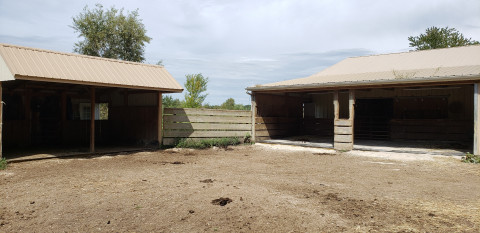 Small private boarding facility with large turnout pastures, two run in sheds and plenty of trees for shade. Hay distributed throughout pastures when grass is no longer viable. Perfect for retired or lightly ridden horses, as well as for pleasure and competitive riders where "horses can be horses". Equine care is top priority and we emphasize turnout in a herd situation as essential to horses' physical and mental well being. Own Vet/Farrier/Trainer welcome. Heated tack room with hot and cold water. Outdoor all weather arena. Mini-trails around property. Maximum 8 horses.
- Individual turnout not available other than during introductions or in limited circumstances.
- Horses are out almost 24/7. Grain inside 2x day/free choice quality hay in paddock and pastures
- 15 minutes North of Columbus/Polaris Area, 6 miles from I-71 exit.
- $380 full board, includes many services...no nickel and diming!
Specialties
- Easy Access From I-71
15 Minutes North Of Columbus
Affordable Horse Boarding Rates
All Disciplines and Riding Levels Welcome
AQHA
Beautiful
Beginner Lessons On Own Or School Horses.
Blanketing
Board
Boarding
Daily Handling Of Horses
Daily Pasture Turn-out
Daily Turn Outs
Dressage
English
English Pleasure
Equitation
Full Service Boarding Facility
Geriatric Horse Care
Grass Fields
Horseback Riding Lessons
Hunter Jumper
Individualized Care
Jumping
Lessons
Open 7 Days a Week
Outdoor Arena
Pastures
Peaceful & Quiet Setting
Personal Attention Given To Each Horse And Human
Personalized Care
Private Riding Lessons
Retirement With Full Care
Riding Lessons for Adults
Riding Lessons for Children
Riding Trails Available
Showing Program
Stables
Trailer Parking Available
Trainer On-site
Young Riders Welcome
Youth