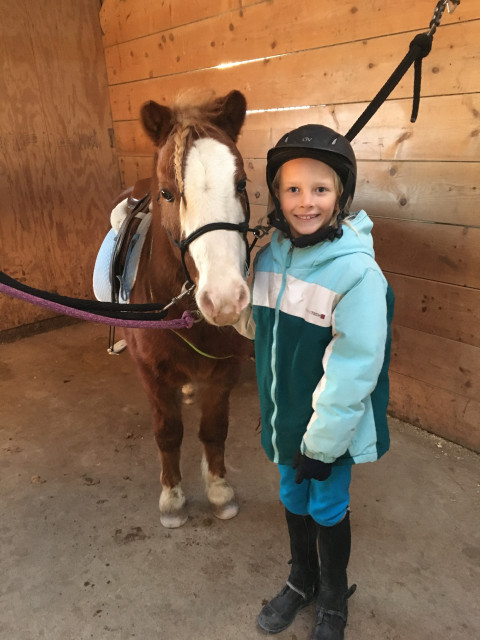 New Leaf Farm has a year round riding lesson program! We specialize in beginner/intermediate riders looking to learn basic riding and horse handling skills in the disciplines of Dressage, jumping, and western using natural horsemanship principles. We accept students ages 5 and older. We offer discounts for packages to fit almost any budget. We teach Sunday-Thursday with occasional lessons on Fridays as well. We've recently added horse camps this summer as well as birthday parties coming soon!
We have several excellent lesson horses/ponies for you to use if you do not have your own.
Chelsea-24 year old bay solid Paint mare-our steady Eddie walk/trot super quiet and safe sweet girl! If you are fearful, this girl will build your confidence. She is super smooth and super patient. Her favorite speed is SLOW!
Lacey: 13 year old black and white Baskir Curly/Paint mare-Our spunky, sassy girl. A steady and fun ride, this girl will keep you on your toes at the walk, trot, and canter. She can do a little of everything including jumping, Dressage, western, trail, and groundwork.
Sherman: 19 year old Halflinger gelding-Our short giant teddy bear, not super tall, but built to carry adults as well as children. He'd rather stand than work but once he's moving he's fun to ride.
Georgie: 16 year old bay QH/Solid Paint mare-Our sensitive girl. Like to please and do the right thing. Not a slow ride, but super obedient. One of our taller horses at 15.2hands.
Harry: 15 year old white Shetland Pony gelding-Harry can be spunky and challenging or slow and sleepy, depending on who is riding him. He takes care of the littles and gives the more experienced rider a challenge. Harry can be ridden western or English. Harry is also a great jumper!
Twizler: 15 year old pony gelding-one of the student's favorites, this is not your typical sassy pony. He is a super steady obedient guy with lots of love and sweetness! Twizler can carry riders at walk, trot, and canter and can jump or be ridden western as well.
Rutherford: 14 year old pony gelding-spunky and fun, safe and sweet. Rutherford is Mr. personality with sweet steadiness mixed with a bit of sass. He is used for western and English riding lessons.
Private lessons $3/30 min., $50/45 min., or $60/60 min. We include balancing exercises, ground skills, drill team, follow the leader, ground poles, games, and other tools for a complete learning experience! Come experience the benefits of learning to safely handle/ride these wonderful creatures. Riding lessons also teach patience, persistence, tolerance, fitness, strength, flexibility, coordination, determination, self control, confidence, and sportsmanship.
Contact us today to set up a farm tour and join our team!
Specialties
Confidence Building For Horse And Rider
Adult Riding Lessons
Affordable
Balance And Confidence For All Types Of Riders
Balanced Seat
Beginner Riding Lessons for Adults
Beginner to Intermediate Riders
Beginning Riders Welcome
Children's Horse/Pony Birthday Parties
Children's Riding Lessons
Classical Dressage
English
English Horseback Riding Lessons.
English Riding Lessons
Family Friendly Atmosphere
Family-Friendly Rates
Gift Certificates Available
Ground Work
Group Lessons
Haul-Ins
Horse Boarding
Horse Leases
Horse Lessons
Horseback Riding
Horseback Riding Camps
Horseback Riding Lessons
Horses
Intermediate Riders
Leasing
Lesson Horses Available
Lunge Lessons
Private Lessons
Reasonable Rates
Reliable Schooling Horses
Riding Lessons
Timid Riders
Trail Riding Lessons
Weekend Lessons
Young Riders