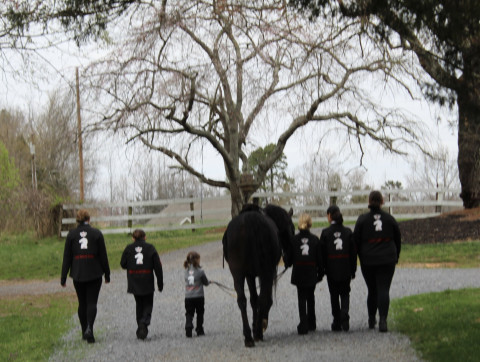 There are 3 divisions at True Hart Farm:
1- Saddle Seat Riding Lessons & Competitive Showing:
This is an English discipline of riding and the breed of horse that we ride and work with is an American Saddlebred.
Teaching is a passion and we love to mentor our "littles". We offer lessons from age 3 and up!
We use positive reinforcement and redirection as one of our teaching tools to make the experience positive and encouraging for the rider and family!
Riding develops self esteem, self confidence and compassion for others.
There are studies that also indicate it helps increase IQ's.
Competitive Showing:
Showing is a great opportunity for your child to get out in the arena and show their stuff! We goal set with you and your child as to what you would like to accomplish.
This does require some travel locally and a commitment to be on the show circuit. It is a great opportunity for your child!
2- Entertainment:
We offer birthday parties for children with the following themes:
Unicorn with Princess Aurora
My little Pony
Mermaid ( which will include merhorses and a Mermaid)
Down On the Farm
Lumberjack
Llama Llama No Drama (enjoy time with our llamas!)
Adult Events and Corporate Outings are also available
Camp:
Summer Camp:
We offer unicorn camp and/or horse camp on Fridays in the summer from 9 am to 2 pm. Crafting, riding, lunch, water games and farm interaction are just a few of the things we do!!!
Fall Camp:
We offer Saturday camp with crafting, riding and farm interaction. This is awesome if you have to be at a lot of games on a Saturday and you have a child that would enjoy being on the farm while a sibling is doing their sport!
Christmas Camp:
We offer a Friday or Saturday Camp during Christmas break! We do riding, crafting and fun activities that are Christmas themed with animals.
Festivals:
We host 5 festivals a year on the farm which is great family fun!
Vendors
Food Trucks
Bouncy Houses
Petting Zoo
Balloon Artistry
Face Painting
& More!
True"s Crew :
This is our interactive area at the farm! We have hands on experiences and interactions with our llamas, goats, mini sheep, silkie chickens, pot belly pigs, rabbits, horses and mini horses! One of knowledgeable handlers will teach fun facts about the animals and share the interesting stories of each of the animals and how they arrived on the farm! Down on the farm days are a big hit for families, school or church groups!
Photography:
Have your next special moment in life captured at the farm with unicorns, farm animals, horses and/or props!
If you don't have a photographer, we can suggest one.
Engagement
Bridal
Maternity
Baby
Milestones
Holiday
Family
3: Paying it forward:
We are not a formal rescue and that is not our main focus. However, we do a lot of rescue work in the community and the animals that are brought to our farm will live their life out with us!
So many of their stories are heart breaking but are also great victories of overcoming tremendous odds and learning to trust again.
Their physical or emotional challenges can be used to teach that being different is awesome! And it shouldn't stop you from doing your best.
Taking our message out into the community helps bring awareness to the plight of many farm animals.
We travel and teach with True's Crew
at the following:
Schools
Churches
Retirement Homes
& More
Please give us a call to book one of the services we offer!
Blessings!!!