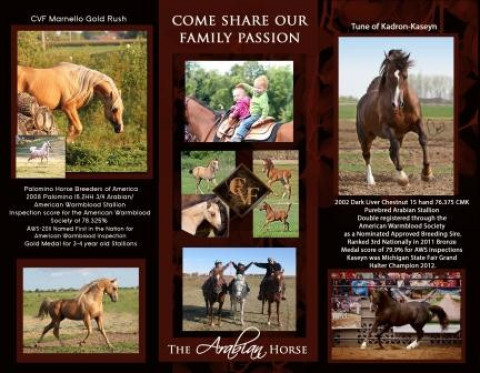 Copper View Farm began in 1996 as a dream of a young girl passionate about the Arabian horse and the future of breeding this magnificent animal. Our farm is built on dreams, hard work, and relationships. Our horses mean everything to us and many times are called our best friends. We ride, care, love, and treasure our Arabians and in return they continue to give their all to us.
We have shown in endurance, dressage, halter, reining, team penning, western pleasure, jumping, english hunt, and trail. We love the open arena where we can introduce this loving bred athlete for others to enjoy. Now we breed what we feel is the Arabian true at heart traditionally looking at confirmation, attitude, intelligence, willingness, and beauty.
Our purebred Arabian stallion is CMK 76%, Tune of Kadron-KASEYN rides, drives, reins, and has pleasure to work which he passes down to his get. He has foals are now winning under saddle in endurance, sport-horse in hand, western pleasure, money earning in cow sorting, Juniour Arabian reserve champion in reining, champion and reserve open halter, and trust worthy trail riding. Work ethic and pleasing attitudes provide the sky is the limit with these athletes. We are passionate in what we breed and what we will produce. Kaseyn is also Warmblood inspected with 79.95% Bronze Medal National in hand mature stallion, Reining points, and regional bronze medal USEF Working western Arabian of the year.
Our other stallion Maranello GoldRush was described as "walks like a panther, looks like a King" in 2011 Gold Medal National Winning American Warmblood Society in hand inspection. Rush has 9 dilute foals 6 fillies and 5 pintos. This stallion had a limited career due to busy family life. Watch for him in the show ring in the future.
We are now three generations strong so please tour our website to see the love we feel towards our Arabian and half Arabian companions as we continue as a family to promote the Arabian breed.
Specialties
4-H Horses
Advanced
Advertising And Standing Stallions And Show Horses For Sale
Amateur
APHA
AQHA
Arabians IAHA
Beginner Horses
BREEDING
Breeding And Sales
Children's
Cutting Prospects
Dressage
English Pleasure
Equitation
Eventing
Horse Sales
Hunter/Jumper
Pleasure Horses
Rare Bloodlines
Reining Prospects
Sales
Show Jumping
Sport Horses
Stallions
Stallions At Stud
Trail Horses
Warmblood Breeds
We Are A Family Owned And Operated Business With Our Clients Int
Western
Working Cow Horse Prospects