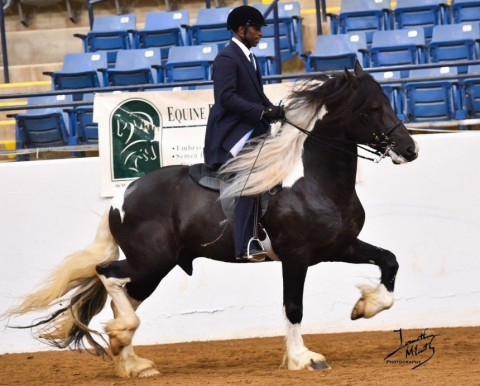 Top Hat Friesians and Barock Pintos is the premier breeder of KWPN Registered Barock Pintos (Friesian x Warmblood) in North America. Because the Barock Pinto breed is so new to North America, the majority of our breeding stock was imported from Europe. In 2015, we are standing our World Champion stallion, Picasso's Masterpiece, to outside mares for the first time. We invite you to visit our website to find out more about our stallions, mares, foals for sale and breeding program goals.
Top Hat Friesians & Barock Pintos is very excited to announce that our World Champion Barock Pinto Stallion, Picasso's Masterpiece, will be standing at stud to outside mares in 2015. Picasso is 96.87% Friesian and 3.13% Warmblood. Picasso is a big boy, standing 16.3 hands and has the beautiful Fairy Tale Friesian appearance and a regal, noble presence. His mane reaches his leg, his tail is super thick and he has lots of feathers, and a stunning black and white tobiano coat pattern. He has a kind eye which reflects his gentle nature, correct confirmation with the strong top line and the thick arched neck that is so typical of the Friesian. He also has the powerful movement of a Friesian with exceptional knee action and the athleticism of the Warmblood. Picasso has a willing attitude, calm temperament, is very intelligent and has a strong desire to please, and he passes all of these characteristics along to his offspring.
Picasso's breed is called the Barock Pinto, which is a cross between a Friesian and a Warmblood. The breed is also called Pinto-Barockpferd, Barock Pinto, Baroque Pinto, Friesian Pinto, Pinto Friesian, and Friesian Warmblood. Picasso was imported from Denmark in 2009 as a foal. He is registered with ECHA-ESV in Germany and received the highest scores given to a foal at their Denmark keuring to date. In the United States he is registered with the Friesian Blood Horse Registry where he achieved Sanctioned Stallion status, the Friesian Sporthorse™ Association (FSA) in the Main Studbook and in the Bronze Elite Performance Book and the Friesian Heritage Horse in the Baroque Pinto Warmblood Heritage Book.
Picasso's pedigree is very special and only contains Friesians and Warmbloods. He gets his thick mane and tail from the Friesian stallion Oege 267 who was known as "The Hair Man" in the Friesian world because horses in his line tend to have the thick long manes and tails that he was famous for. Picasso's pedigree has more Friesians than Warmbloods and if you go back in his pedigree on his sire's side, his Warmblood ancestor is the famous Groninger sire named Bonte Nico (also known as Bonte Nico van Friesland). Bonte Nico was the first Barock Pinto (his sire was a Groninger and his dam was a Friesian). According to the Groninger Registry and Association in the Netherlands, the Groninger horse is described as "a heavily built Warmblood horse with three good gaits. It is a rare, but versatile breed with a good character." The Groninger horse provided the foundation for the creation of the Dutch Warmblood and almost went extinct because of it. Picasso's pedigree traces back to the original lines used to create both the Barock Pinto and the Dutch Warmblood breeds. There is no Samber blood in Picasso's pedigree.
In 2014 Picasso began his show career with outstanding results including many Champion, World Champion, Reserve Champion and Reserve World Champion titles. He was also named in the USEF Horse of the Year Champion Roster with the following: National 4th: Part Bred Friesian Saddle Seat, National 5th: Part Bred Friesian Dressage and National 6th: Part Bred Friesian Hunter. At the Friesian Sporthorse Association he was named in their Horse of the Year Awards Top Ten for Inspection and In-hand Awards. And, as a result of his show scores, Picasso was also named a Sanctioned Stallion with Friesian Blood Horse Registry.
If you're interested in breeding your mare to Picasso in 2015, please contact us for a copy of the breeding contract. We are offering multiple mare discounts ($200 off the second and any additional mares) and an early booking discount ($100 off one mare) if you book and pay for the booking by March 1, 2015.
Visit us online at http://TopHatFriesians.com or like us on Facebook at https://www.facebook.com/tophatfriesiansbarockpintos
Thanks for the interest but Picasso is not for sale. :-)