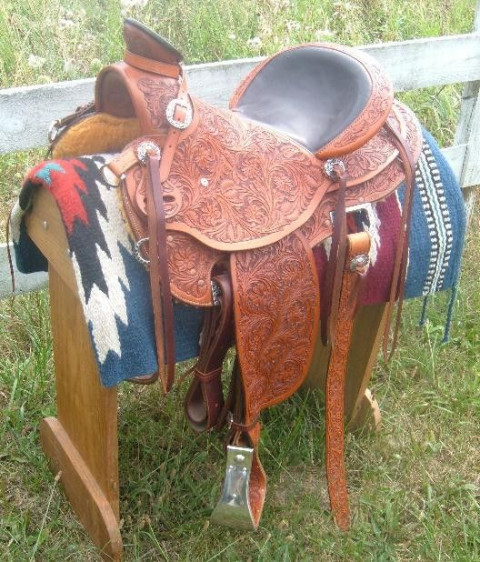 Established in 1959. My purpose, building saddles for people who use them, using only the best, quality materials. Saddle trees that are made in the United States, or in Canada ( home of several high quality tree makers ) and using only leather from either Wickett & Craig Tannery or Hermann Oak Tannery. For new saddles, I use the Dennis Lane Saddle Fitting Cards, to insure that the tree I use will conform to the confirmation of your horse or horses. Fit the horse first, then, fit the rider. Matching accessories can be made to order.
Spring and Summer are now gone, and Fall is upon us. This is a nice time to ride the trails and view those beautiful Fall colors. Is your saddle and your tack in safe riding condition, for your horse and for you? Check your saddle and tack over. Is the leather dirty and dry and in need of serious cleaning, oiling and reconditioning? If your saddle is in need of a repair, that can be taken care of at the same visit. The cleaning and oiling price is $85.00. I accept repair work by mail or UPS.
Does your saddle have tie strings, are they usable, and not hard, dry and cracked? When you have your saddle cleaned and oiled, these can be replaced with new, hand cut strings which are long enough to tie that raincoat or slicker behind your saddle, when trail riding, just in case of rain.
Check the photo album for photos of saddles that have been restored to safe riding condition, and appearance.
What? If you live out of the State of Indiana and it is to far to drive, we are as close as your Post Office or UPS Store, to have it shipped to us for an estimate, and repair.
Is the girth on your saddle safe to use or is it worn and frayed? Is it hard and stiff from grime and dried sweat? Mohair, rayon and cotton girths can be washed, to remove that grime, and then left to 'air dry'. If strings are broken, it is time to replace it. We have new as well as gently used Mohair girths in stock, at reasonable prices. Check that headstall, is it hard and dry, and has cracking? We can fix it, or make you a new one. How about those reins, see those cracks on the grain side? Yep, that is the start of a break. I have new, handmade harness leather reins, most up to 8 feet long, prices start at $39.95 per pair.
Not sure if your saddle is safe? Bring it on by, and I will check it over at no charge. Just like going to the body & fender shop with your truck, I will write up an estimate of the cost of making the necessary repairs to make it safe for you, or for your kids or for your wife to ride. Safety First.
Speaking of saddles, check out the Photo Album. for photos of those that we have reconditioned to insure that they are safe to ride.
Now a few things about Ross Saddlery. beside being a full service saddle shop. . I also make personal leather items to order, things like belts, wallets, checkbook covers, binders for your photos or for carrying your registration papers in to carry with you to shows.
NOTE: We do not carry clothing, hats, boots as would be found in a Western Store.
Also, I do not take items on consignment to sell, for I cannot guarantee the quality of or the safeness of the items, unless I have actually worked on them to insure that they are safe to use.
If you have an item that needs to be repaired, a list of most common repairs and prices are listed on my website, www.rosaddlery.com
I also teach leathercarving, as well as western saddle making. See my website for more details under schooling.
I am also recognized internationally as a Master of the Sheridan Style of carving, and have pattern books published, which can be previewed at www.rosaddlery.com.
Again, repairs can be shipped to me by mail or by UPS.