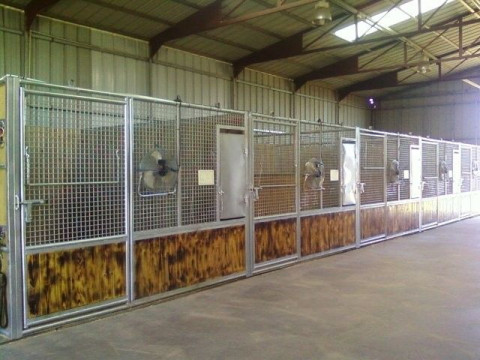 STALLS, STALLS, STALLS!!!!!!! PORTABLE!!
Let the experts build your stalls!! We build ALL custom stalls and ship them worldwide. They are free standing & portable.
We start with galvanized metal for the frames, to resist rust. Each of our stall panels are fully welded. There is nothing to screw together. The panels have common "sleeve together" pins, that hold the panels very squarely and tightly in place. We can build them to your EXACT measurements, and they will come to you ready to install with the wood or poly panels already inserted. We can build one, or a thousand. Our prices are less than our competitors.
But the quality and safety is in the workmanship and the materials. These are built to be tough and pocketbook friendly for the consumer. Give me a shout and I will design the "look" you are hoping to achieve. Our family has been in the horse business as trainers and breeders for decades, and understand what it takes to keep a horse safe and the stall also be easy for the handler to work with.
We also build barns in the Denton county area.
BUILT BY HORSEMEN FOR HORSEMEN
N (horsewomen too!!!) :)
Stall fronts start at $450. Bartop Dividers $400.
Includes wood installed in galvanized frame
Specialties
Barn Equipment (Arena Drags, etc)
Center Aisle Barns
Corral Panels
Custom Garages
Custom Horse Barn & Stall Construction
Custom Stall Fronts
CUSTOM STALLS
Equipment Sheds
Expo Stalls
GALVANIZED METAL FRAMES
Hay Storage Barn Construction
Horse Barn Remodeling
Indoor Riding Arena Construction
Livestock Equipment
Loafing Sheds
Metal & Steel Buildings
Outbuildings
Portable Barns & Sheds
PORTABLE STALLS!!!
Round Pens
Run In Sheds
Saddle & Bridle Racks
STALLS
STALLS SHIPPED
Storage Sheds
Turnout Shed Construction