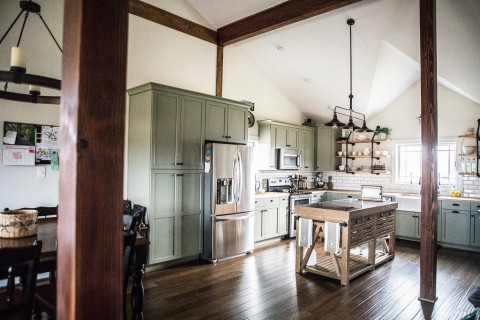 We Build Barns - A Professional Building Services, Inc. company.
We are a Class "A" Custom Home Builder. We are a small Family owned and operated company. We have been able to take 25 years of custom home building and apply the knowledge, skill and specialization into our custom barns. Never building the same barn twice. We take pride in offering each client their vision of what will work for them. Together, applying that vision into reality.
We can customize whatever works best for you. You can choose from one of our designs or we can work together to design your perfect barn. Metal or Wood. From Custom Exteriors -Tongue and Grove, Gable Roofed, Board and Batten, Seamless Metal Roof, Master Rib, to Custom Interiors- Aisle ways, Rubber pavers, Slate, Tongue and Grove Ceiling, Electric, Plumbing, Automatic Water systems, and Bug Spray Systems. However much or however little, we provide you, the client, a complete project, from start to finish!
Call us now, Let's make your dream a reality!
Check out our home site at professionalbuildingservicesinc.com
Specialties
Apartments Above Barns
Barn & Home Additions
Board-and-batt Exterior Siding
Broken Gable Barns
Cedar Siding
Center Aisle Barns
Class A Residential Custom Home Builder
Clearspan Arenas
Commodity Storage
Concrete
Corral Panels
Custom Post & Beam Barns
Custom Barns With Custom Floor Plans
Custom Built On Site
Custom Cabin Construction
Custom Garages
Custom Home Construction
Custom Horse Barn & Stall Construction
Custom Sheds
Custom Stall Fronts
Custom Windows And Doors
Customized Buildings
Drainage
Equipment Sheds
Expo Stalls
Exterior Trim & Siding
Farm Workshops
Free Quotes
Free Written Estimates
Fully Licensed And Insured Contractor
Gambrel Barn Construction
Hay Storage Barn Construction
Hobby Shops
Horse Barn Design & Build
Horse Barn Doors (Sliding, Dutch, Overhead)
Horse Barn Remodeling
Indoor Riding Arena Construction
Interior Trim
Livestock Shelters
Living Quarters
Loafing Sheds
Machine Storage Buildings
Metal & Steel Buildings
Metal Garages
Metal Roofing
Outbuildings
Pasture Fencing
Pole Barn Construction
Portable Barns & Sheds
Post Frame Construction
Residential Construction
Round Pens
Run In Sheds
Saddle & Bridle Racks
Stall Mats
Straight Gable
Timber Frame Construction
Turnout Shed Construction