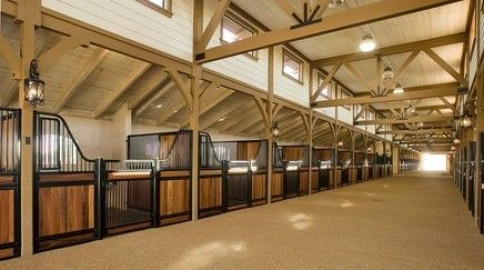 Enhancing your equine experience is what Classic Equine Equipment is all about. Four over 20 years we have been creating beautifully styled barn components and earning a reputation as a leading producer of high-quality stalls and equipment. In today's economic times, consumers are looking for not only aesthetics, but also value. At Classic we understand that no longer can a company rest on their laurels - being the best simply isn't good enough anymore. We must provide exceptional service, innovative products and demonstrate a marked value to our customers.
Value comes not only in the form of the final sales total, but also in the longevity and safety of the products themselves. Classic Equine products are constructed from pre-galvanized steel which is then powder coated, providing the ultimate in rust protection. All pieces are fully welded, solid framed, made with tubular steel which is a minimum of 14 gauge. This makes for a rigid frame which will not warp or break over time and use. Stall and barn components come with a 5 year limited warranty.
All of Classic Equine's products are manufactured at our 140,000 square foot facility located in Fredericktown, Missouri. This allows us to control quality while creating beautiful, safe and functional products, from the elegantly designed stall components to the industry leading FullStride® Treadmill. This commitment to quality has made Classic Equine one of the top manufacturers of stall and barn equipment, not only in the United States but in the world.
For eight years in a row Classic Equine has received the Gold Key of Excellence. Sharon Thatcher of Rural Builder magazine explains, " the Gold Key of Excellence is the gold standard of the rural builder industry. Businesses that receive it, earn it. They earn it through good service and good products that have taken years of dedication to build. The award is most significant because the winners are nominated by customers, speaking volumes for how seriously these companies take their products and better yet, the people who use them."
Specialties
Aisle Flooring
Barn Equipment (Arena Drags, etc)
Barn Fans
Center Aisle Barns
Custom Garages
Custom Horse Barn & Stall Construction
Horse Barn Doors (Sliding, Dutch, Overhead)
Indoor Riding Arena Construction
Livestock Equipment
Pasture Fencing
Saddle & Bridle Racks
Stall Mats
Tack Accessories