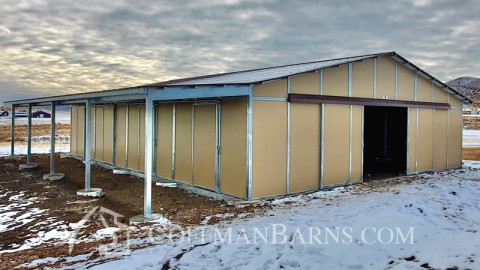 Authorized dealer of FCP Barns, buildings and equestrian facilities in Colorado, New Mexico, Wyoming and Montana providing Complete, One Stop, Turn Key Solutions for the Equine Professional! We also service other areas!
Call us today at Toll Free (844) BARNS4U or Office (720) 744-BARN, Cell (602) 399-7988 to talk to our Barnologist today. Financing Available on approved credit!
We also supply and install Agricultural & Shop All Steel Buildings nation wide and in Arizona. Get your new all steel building delivered in as little as two weeks. Contact us for more details!
Email barnologist@coffmanbarns.com
Specialties
1 Person Contact From Sale To After The Sale Warranty Process
Agricultural
Agricultural Buildings
Apartments Above Barns
Automatic Horse Stall Waterers As Well As Outside Waterers And F
Barn & Home Additions
Barn Accessories
Barn Components
Barn Doors
Barn End Doors
Barn Equipment (Arena Drags, etc)
Barn Fans
Barn Kit
Barn Restorations
Barn Straightening
Barndominium
Barns
Blueprints
Board And Batten
Board-and-batt Exterior Siding
Breeding Sheds
Broken Gable Barns
Build
Building Kits
Cattle Barn
Cattle Barn Construction
Cedar Siding
Center Aisle Barns
Chew Proof
Classic Barn Systems Also Offers Every Aspect Of Residential Con
Clearspan Arenas
Commercial Building Construction
Commodity Storage
Complete Turn-Key Designs From Quote To Installatoin
Concrete
Consultation
Corral Panels
Custom Post & Beam Barns
Custom Barns With Custom Floor Plans
Custom Built On Site
Custom Dutch Doors
Custom Exteriors
Custom Garages
Custom Home Construction
Custom Horse Barn & Stall Construction
Custom Stall Fronts
CUSTOM STALLS
Customized Barns To Match Your Home Architecture
Customized Buildings
demolition
Design
Dutch Doors
Electric
Electrical
Electrical & Plumbing.
Enclosed And Covered Riding Arenas And Buildings.
Equestrian Center Design & Construction
Equine Barns
Equine Rubber Mat
Equipment Sheds
Erection
Excavation
Expo Stalls
Exterior Trim & Siding
Factory Warranty On All Products.
Farm Workshops
Fencing
Fire Proof Barns And Stalls
Fly Spray Systems
Free Quotes
Free Written Estimates
Fully Licensed And Insured Contractor
GALVANIZED METAL FRAMES
Galvanized Steel
Gambrel Barn Construction
Garages
Green Building
Ground Stability And Hoof Stability For Equestrian Facilities.
Hay Storage Barn Construction
Heavy Duty Stall Kits
Hobby Shops
Hog Building
Horse Barn Design & Build
Horse Barn Doors (Sliding, Dutch, Overhead)
Horse Barn Remodeling
Horse Barns
In-Line/Shedrow Barns
Indoor Riding Arena Construction
Integrity
Landscaping
Livestock Barn
Livestock Equipment
Livestock Shelters
Living Quarters
Loafing Sheds
Machine Storage Buildings
Mare Motels
Md Barn
Md Barnmaster
Metal & Steel Buildings
Metal Garages
Metal Roofing
Miniature Horse Stalls
New Construction
Open Air Barns
Outbuildings
Palpation Chutes
Pasture Fencing
Pig Barn
Plumbing
Pole Barn Construction
Pole Barns
Portable Barns & Sheds
Post & Beam Barn Kits
Post Frame
Post Frame Construction
Powder Coated Stall Walls And Fronts
Pre Engineered Barn Package Installation
Pre Manufactured
Raised Center Aisle Barns
Re-roofing
Repair
Residential Construction
Restoration
Revolving Tack Room Wall
Rodeo Equipment
Roofing
Round Pens
Run In Sheds
Rustic Barns
Saddle & Bridle Racks
Stable
Stall Fronts
Stall Mats
STALLS
Storage Sheds
Straight Gable
Stucco
Turnout Shed Construction
Versatile