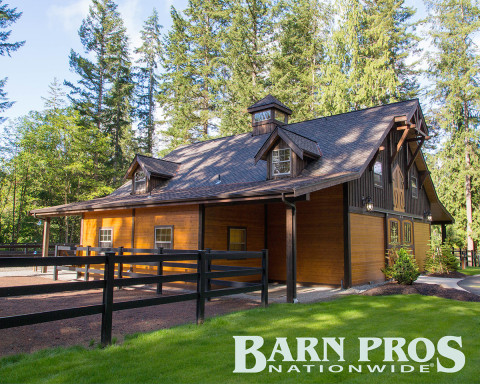 Nearly 30 years providing quality barns, shops and arenas around the Pacific Northwest! We promise to place your needs and goals first, putting our passion to work bringing your dream to life. Partner with the 'pros' to leverage our experience and connections for your building project. We look forward to working with you!
We provide fully engineered building packages that include:
- Design services
- Site specific engineering & calculations packet
- 5 sets of permit-ready blueprints
- Building materials package
- Pre-built components (doors, cupolas, etc.)
- Delivery to your build site
- Builder support
Ask about our preferred contractors for Snohomish, King, Skagit and Island counties!
Specialties
Agricultural Buildings
Blue Print Design Services
Broken Gable Barns
Building Materials
Center Aisle Barns
Clearspan Arenas
Free Written Estimates
Gambrel Barn Construction
Garages & Workshops
Hay Storage Barn Construction
Hobby Shops
Horse Barn Design & Build
Indoor Riding Arena Construction
Monitor Barn Construction
Outbuildings
Pole Barn Construction
Post Frame Construction