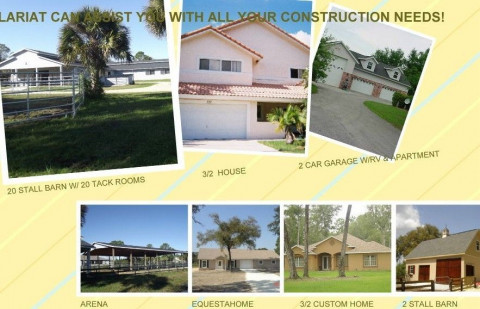 We have been serving Marion and surrounding counties since 2001, Florida State Certified Contractor since 1983, around horses...life time!
As horseowners we're dedicated to assisting the equine industry.
We are NOT "cookie cutter" builders. You design, we build to accomodate to your budget!
Our experiences have allowed us to design and build a
NEW STYLE HOME: "EQUESTAHOME"
A CBS Single Family Home With ADJOINING Barn built for
Florida weather.
Our versatility experiences can build you a Single Family Home,or 2 - 20 stalls of Shedrow, Center Aisle wood or Concrete Barn, Fencing, Redesign it remodify to a new barn, or to build you a New Garage, or even if necessary disaster construction.
Specialties
Agricultural Buildings
Barn & Home Additions
Broken Gable Barns
Cattle Barn Construction
Center Aisle Barns
Clearspan Arenas
Commercial Building Construction
Concrete
Custom Post & Beam Barns
Custom Cabin Construction
Custom Garages
Custom Home Construction
Custom Horse Barn & Stall Construction
Custom Sheds
Equestrian Center Design & Construction
Farm Workshops
Free Written Estimates
Fully Licensed And Insured Contractor
Gambrel Barn Construction
Green Building
Hay Storage Barn Construction
Hobby Shops
Horse Barn Design & Build
Horse Barn Remodeling
Indoor Riding Arena Construction
Living Quarters
Loafing Sheds
Metal & Steel Buildings
Metal Roofing
Open Air Barns
Outbuildings
Pasture Fencing
Pole Barn Construction
Portable Barns & Sheds
Re-roofing
Residential Construction
Roofing
Run In Sheds
Stall Mats
Storage Sheds
Straight Gable
Stucco
Turnout Shed Construction