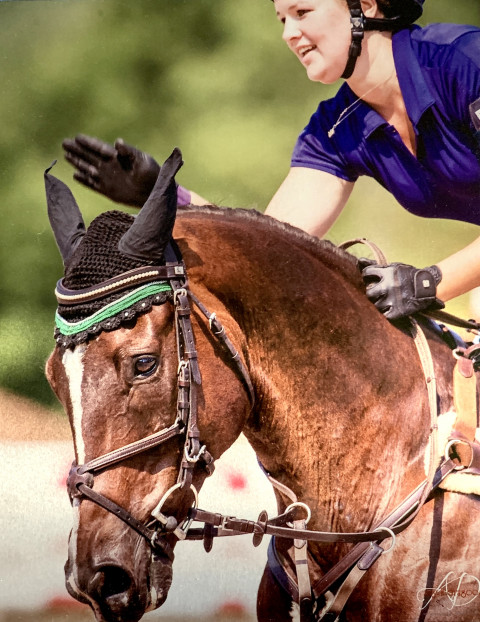 As a lifetime resident in the South Jersey area, when you work with me, you will receive a knowledgeable and professional real estate agent who is committed to negotiate on your behalf. Whether you are selling or buying, I have systems in place to streamline the transaction process from marketing your home, finding your next home, finalizing an offer, negotiating thru inspections, until settlement day.
On the personal side, I am an equine enthusiast. Not only do I ride but I am an equestrian athlete and trainer. I have been competitively showing for over 15 years, and have been fortunate enough to be able to successfully compete many different horses in various classes and competition levels, up and down the east coast. I believe that education as a rider and instructor is a lifelong journey, and every time I ride or attend any events or clinics, I managed to learn something new. I have committed myself to these wonderful animals and I am always continuing my education in horses and horse management so that I am able to best assist their owners. I have grown up around horses, and lived on a horse farm for over 10 years and have also helped managed many barns and horses in the area. I have also worked closely with veterinarians and take pride in staying up to date on what is best for our animals. Being a horse enthusiast is not just about the riding but the management and care these animals require on a daily basis, from the barn, fields, fencing, layout, exercise, training and so much more, I am here to help.
Although my niche lies within selling a variety of different farms; I also specialize in residential homes and land throughout New Jersey. You will never find a more dedicated, energetic, or focused agent to represent you. Please give me a call for a no obligation assessment of your needs!
Specialties
1st Time Buyers
Breeding Facilities
BUYER & SELLER REALTOR
Buyer's Agent
Commercial Farms & Properties
Country Estates
Equestrian & Ranch Properties
Equestrian Agent
Equestrian Estates
Equestrian Facilities
Equestrian Relocation
Equestrian Rentals (Seasonal, Short Term)
Equine Property
Farms And Land
Farms for Boarding / Private Use
Foreclosure Properties
Gentlemen Farms
Homes And Land
Homes On Acreage
Horse Barns
Horse Farms
Horse Properties
Horse Property Buyers
Horse Property Realtor
Horse Sales
Horse Trainer, Riding Instructor, Fei Eventing Rider, Dressage R
Horse Training Facilities
I Work With Buyers And Sellers
Indoor Arenas
Land for Sale
Listing
Listing Agent
Luxury Equestrian Estates
Luxury Homes
Mini & Hobby Horse Farms
New Construction
Private Equestrian Communities
Property
Ranchettes
Realtor
Recreational Properties
Resale
Riding Trails
Rural Horse Properties
Short Sales
Single-family Homes
Small Horse Farms & Ranches
Upscale Horse Property
Waterfront Horse Farms