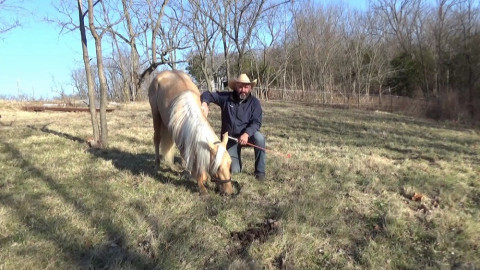 Price may change anytime please visit the website Thehorsebay to view all information. If you have any questions please contact me anytime...GRAND'S SPARKLE PLENTY (aka – "Sparkle") is a 4 year old, 14-2 hands, golden palomino, registered Missouri Fox Trotting mare. "Sparkle" lives up to her name with plenty of sparkle in every category that is important in a personal riding horse:
COLOR — amazingly beautiful, golden palomino body with pure white, flowing mane and tail. (see video and pictures)
CONFIRMATION — Spot on the confirmation standards of the Missouri Fox Trotting Horse Breed Association. (see video and pictures)
GAIT — Wonderful head-nodding, smooth as silk: Flat Walk, Running Walk, Fox Trot and slow Canter. (see video)
TEMPERAMENT — Fantastically calm, friendly, people loving, easy going and willing to do whatever she is asked to do. (see video)
EXPERIENCE –– Sparking performances in show ring classes, in easy-going trail rides in almost every possible environment, and in equine companion body control. (see video)
TRAINING — Expertly trained by Shawn Sublett for more than 2 years to become the last personal riding horse and equine companion for an elderly gentleman living in Colorado. Shawn Sublett is a well known trainer of Missouri Fox Trotting Horses for showing, for trail riding, and for equine companions. His training methods include: natural horsemanship training, training to developing the correct and natural gaits for each individual horse, and sensitivity training of each individual horse for almost every environment the horse will see in their lifetime. Shawn also uses Spanish horse training methods that go back hundreds of years and are still used today to train Spanish performance horses around the world. "Sparkle" is a superb example of these training methods and natural ability.
SUITABILITY FOR RIDERS — "Sparkle" shines beautifully in this category also. She has been trained by Shawn to be a calm and fun personal riding horse for an elderly gentleman who has owned many breeds of horses throughout his life. As a result, "Sparkle" is suitable for even a beginner who is willing to take a few lessons on communicating with a well-trained horse using hands, legs and seat. For an experienced horse person, "Sparkle" will provide the best first-ride they have ever experienced and will remain their person riding horse for the rest of their life.
SHOWMANSHIP: Sire "Grand Central" won 2 year old World Champion, 3 year old World Champion, 4 year old World Champion, open 5 year old World Grand Champion and one time World Grand Champion Halter Horse.
Dam "Marilyn Monroe" won Ladies Amateur 2 year old Classic Horse, Amateur 5 year and older World Grand Champion and Classic Horse World Champion.
Sir of Marilyn Monroe "Love Ya Man" won 2 year old World Grand Champion, and Open Amateur 5 year and older World Grand Champion Classic.
Dam of Marilyn Monroe "Willie's Blonde Ambition" won the Amateur 2 year old World Grand Champion, Amateur 3 year old World Grand Champion and Ladies World Grand Champion.
There are 11 World Champion horses that rest on Sparkles Plenty's papers.
"Sparkle's" owner is now 88 years old and his physicians have told him he should not ride horses any more. Therefore he is sadly offering "Sparkle" for sale. "Sparkle's" owner has said "I have owned personal riding horses for more than 65 years and "Sparkle" is the best I have ever owned or seen. One of the laws of nature dictate that there comes a time in everyone's life when their health condition tells them they are too old to ride. Sad, but true."