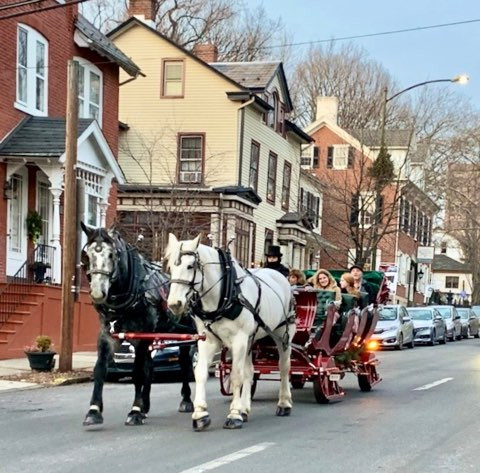 POWERFUL Grey (White) 18.1, 13 year old Percheron Gelding. Solid and 110% traffic safe. Has even done rides with firework shows going off! He can be driven by beginners and kids. Great horse with a sensible mind and he loves to work! Good Whoa on him and could stand all day!
Liam drives SINGLE or anywhere in a TEAM (he drives best in a team). Hitched to all farm equipment and many carriages and wagons. I got him as the head lead horse off a farm. He was the horse that did all the jobs that required the skills of the best horse on the farm. Anyone can drive him anywhere! He was our best horse for beginner drivers last year and all the drivers in training. Lots of People hauling experience with every type of setting and vehicle out there. Perfect for weddings and special events. He just finished Christmas rides pulling our heavy sleigh!
Has no vices or bad habits.
He is our strongest pulling horse we have! He can also work many long consecutive days in a row and can keep on pulling just as strong right through the season.
He is one of my main horses I count on for any carriage ride job. The only reason I am selling him is because I am no longer working with the taller Percherons and have decided to go with the shorter type.
Is current on all shots, Worming and seen regularly by a dentist and farrier (goes barefoot)
Quiet with a good Whoa on him and could stand all day until told to do otherwise
As far as my knowing he is sound in the 3 years I have had him.
Lowers his head to be bridled
He stands well to be groomed, harnessed, saddled, mounted, bathed, and trimmed
Good disposition
Responds to many voice commands- very well trained
Trailers perfectly (loads right in)
Stands tied quietly and ground ties
Good with fly spray, baths, clipping, and blanketing
Gets along nicely with other horses
No shoeing stocks needed
Suitable for larger riders
Healthy and good lungs
Has good manners on the ground (Natural Horsemanship training)
Drives SINGLE or DOUBLE as well as any multiple hitch!
Has been hitched to all farm equipment and many carriages and wagons as well as in multiple hitches up to a 6 horse hitch.
Used for weddings, Christmas, Wagon rides, and other special events by a professional Carriage Company. He is ready to go for any Carriage job out there.
$7,900
Located Lehigh Valley Pa
I'm selling him because he I don't no longer have his team mate and he does not match my other Percherons
Feel free to call/text 610-730-497three for more photos or to set up a time to meet him/try him out.
Liam VIDEOS:
https://magis.to/av/OiMiVEVTGEIsP3kGDmEwCX13?l=vsm&o=i&c=m
Riding Video:
https://magis.to/v/IQUYNEgKRWsrD0VgCzE?l=vsm&o=i&c=m
https://magis.to/av/eH17VEVTGEIsP3kGDmEwCXt5?l=vsm&o=i&c=m