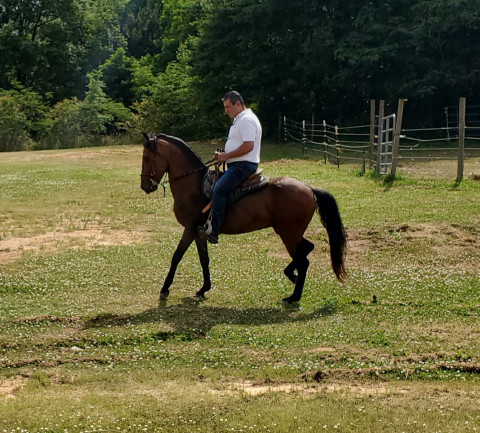 Video coming soon...
Amazing stallion out of BRIBON DE SAN ISIDRO. Excellent opportunity to own a fantastic bloodline on an all-around horse. Has Fino type gate and can be worked into very collected action. Has been trail ridden and ridden by novice riders, kids, doubles, and non-gaited riders. Happy working, either in the ring or out on the trail. I have taken him on cross-country rides across the property. He has been ridden down the road and on public and private trails. Calm for a Paso Fino, he is often mistaken for a gelding. He is calm when he needs and pulls out the brio when it's time to work. Hot, not crazy. Chill in the stall next to anyone (stallions, geldings, and mares). Has been in open pastures with geldings. Keeps inside or out. Has not challenged fences in my experience with him.
I consider him average for a Paso Fino (especially considering he's a stallion), which is HOT if you are used to quarter-horses or warmbloods. Would be best with an experienced Paso Fino rider or a rider used to hot horses. While is is very nice, it is a lot of horse if you don't know what you are doing or don't have a trainer to help you.
He has been owned by 2 men previously, both trainers. He was raised with love and care. Never shown (circumstances did not allow). Has innumerable miles under his saddle. I pulled him out recently to go and check a down fence and he was fine. No warm-up, just saddle up and ride. He was hot and ready to run, but not crazy or uncontrollable...expected for a stallion who hadn't been out in a while. Such a good boy. Now he needs to go to another home with the time and energy to give him the life he deserves.
I do have his signed paperwork. He can be registered, his paperwork was simply never filed.
Thank you for looking! If you are looking for a great Paso Fino Stallion with great bloodlines, let me know if you think Indigo might be the right boy for you. Have a great day.