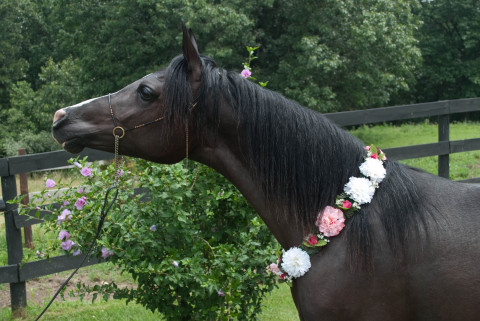 If you grew up reading books like Walter Farley's The Black Stallion, Black Beauty or King of the Wind; or watching Trigger, Fury, and the Lone Rangers' Silver & Scout on TV...you are probably a horse lover like me! If you have ever dreamed of owning your very own horse or foal...give me a call and I can tell you how you CAN create, raise, train and ride YOUR VERY OWN special horse from a foal creating a bond of friendship, trust and love. Consider our "Create-A-Foal" program, and preserve the historic bloodlines of one of the most beautiful sought after horse breeds in the world...the Straight Egyptian Arabian Horse! This program offers extreme show quality Straight Egyptian Arabian mares to choose from, and we help you select the perfect stallion to be bred to the mare of YOUR choice. The resulting foal after eleven months gestation is owned by YOU and YOUR NEW JOURNEY OF HORSE OWNERSHIP BEGINS! No farm or property is required to own YOUR OWN horse, as options are available, and our program gets you started with a convenient monthly payment plan starting at only $250.00 per month, where we do all the work - committed to mentoring and educating you along the way to reach your goals and dreams. Cressant Hill Arabians has provided 30+ years of service and expertise with the Straight Egyptian Arabian horse in the equine industry, and is at your service! The Arabian horse is one of the most versatile breeds in the world' and our bloodstock can create a classic Straight Egyptian Arabian foal that is sure to please. Come visit our beautiful mares in the barn and pasture to see how gentle and people oriented they are...where YOU will feel a true connection of LOVE and TRUST from the noblest creature on earth. Let a foal teach YOU, your family and your children how they can bless YOUR life and bring you years of joy; as they have mine. Contact Letta today to set up an appointment, and be sure to explore our website as you DISCOVER the Straight Egyptian Arabian Horse!
We are offering a foal as the result of a 2023 breeding to one of our show quality mares.
Sired by:
Top Ten 2021 US Nationals Stallion, Ibn Raad (Scapa x LPS Thunderstruck by Thee Infidel), a multiple Champion Bay Straight Egyptian Arabian stallion.
OR
Aja Ali (Thee Desperado x The Ambrosia by The Elixir), a 2007 & 2006 Top Five Egyptian Event Champion Chestnut Straight Egyptian stallion.
Other stallion options possibly available...contact us for more details.