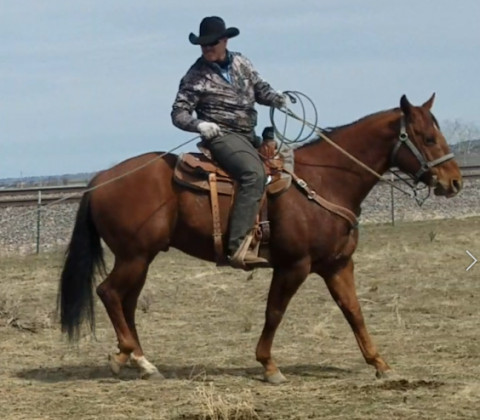 Shining Spark, Doc O Dynamite, Peppy and Shine on Sue in bloodline.
Houdini is a well trained and very friendly 7 year old Chestnut Registered Quarter Horse Gelding. Around 1200 pounds 15'3
Easy to catch and loves the attention, trailers, picks his feet up nice.
Bought him as a two year old and finally deciding to go ahead and sell because I have too many others to work on.
Lot's of trail riding and arena work. Gathered cows, branding, finished both heading and heeling.
Does a nice reining pattern, started on flying lead changes, large fast and small slow circles, started on turn arounds but not pushed fast. Lopes off from a dead stop. Has a lot of get up and go, no buck Stands for mounting. Walks on out fast on the trail. Lots of practice through the creek. Started in dressage movements, leg yielding, shoulders in, haunches in, collects nice. Obstacle trail courses no problem, side passes, opens gates. Practiced on barrels some and really loves them. Just glides around. Text preferred for contact. Located near Billings, MT