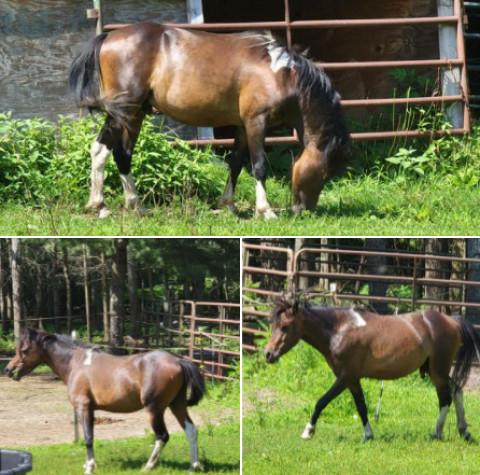 4 year old Shetland Stud looking for a new home. McCarthy's Heir to the Empire aka "Wings" is looking for a new home that can spoil him and teach him the things that I could not. Wings is a blank slate so you can train in any way you would like. He would look cute under saddle for a young experienced small child or handsome in harness pulling a cart. If neither is your fancy, Wings has impeccable breeding and confirmation and would make an excellent addition to any breeding program. Wings would be best suited in an experienced home, though he does not act like a stallion with people, for a very beginner, they could easily miss the subtle signs and he could become challenging unintentionally. Wings is a sensitive soul but very willing to learn. He needs soft hands and a kind eye to keep him connected with you. He really wants to please but is still unconfident and needs a person who can help build him up.
If showing him is your thing, he was shown once by the McCarthy's as a weanling and received 2 HOF points. He is definitely a looker and a flashy mover.
Wings would be best suited either pastured by himself or with like sized horses. He is currently the pesky pony in my herd. Most of the time he is just playing but like any little kid, he doesn't want to stop playing when everyone else does and can get a good punt or bite from my bigger and older guys.
Respects electric fencing
Eats 1st cutting hay with a handful of topline balancer. Very easy keeper, no grain necessary (he actually gets pretty hot when grained during the warmer months so I keep the cup or 2 of grain for the cold winter months).
No contracts. He is green, no known health issues. Good feet, needs a calm farrier and floater, as he stands tight but is not difficult. Needs a open trailer to move, does not know how to cross tie. Is up to date on worming and will have hooves trimmed before leaving.