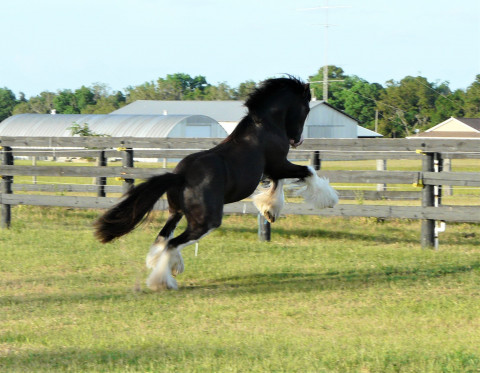 CaraVanner's Bale Money – 2019 Black Blagdon Stallion
One Step Ahead of the Jailer x Gypsy
$17,000
Ee, W20/W20
Should finish about 13.1 H. 2021 will be his first year breeding.
Flashy guy, with a fluffy mustache. He is a total character. He loves to play with balls, & be sprayed full force in the mouth with the hose.
Bloodlines Include (but not limited to): The Warden, Alfie's Stallion, Vines Mare, Kennocha Mocha, The Business (AKA The Boss), The Boss (UK), Lion King Granddaughter, Ambrose Deer Horse, The Blue Blagdon Mare, Blue Blagdon Stallion, Secret Drifter, TP's B&W Mare, The Diplomat, The Black Colt, Midget Daughter, Son of Bob the Blagdon, Bob The Blagdon, Lise's Dream Mare & More!
Visit Baler's website for more information:
https://www.romanihorse.com/balemoney
Gypsy CaraVanners is located in Central Florida & has been breeding Gypsy Vanners for over 10 years. We have multiple horses available, & publicly standing stallions.