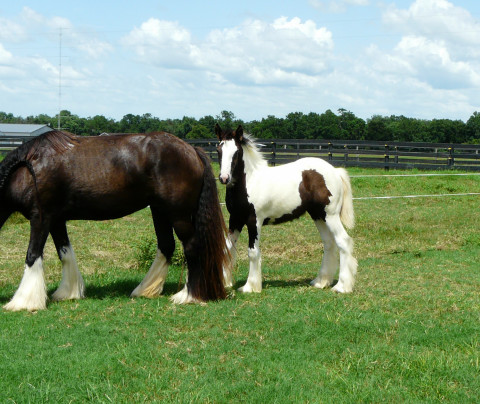 CaraVanner's Snuff-I-Love-A-Kiss - 2021 Black & White Filly
Anubis x CaraVanner's Blagdon Rights
This little lady is sizing up to be a stocky mare already. She is sweet & calm as they come.
Looking for a Leopard or Few Spot Appaloosa? Carries Pattern 1 gene.
Bloodlines Include (but not limited to): SD Jim, Bob the Blagdon, Sweeper Mare, The Lob Eared Horse, The Horse Shoe mare, The Old black Horse, Vines Mare, HCS White Hrose, The Irish Mare, Paddy Horse, Old White Mare, the Coal Horse, The Butterfly Horse, Beibhinn Blue, Roadsweeper, Old Mother Riley, The Old Coal Horse, Rhonda, Blue, Westmoreland Curly Sue, The Rocking Horse, Westmoreland Splish Splash, Cheif, The Old Horse of Wales, The Lottery Horse, Westmoreland Tic Tac, Amos Withshire's Old Horse Sam, Joe Wiltshire's Red & White Mare Matilda, Joe Wiltshire's Black & White Stallion The Old Black Horse, The Coal Horse, & More!
Visit my website for more information:
https://www.romanihorse.com/anubisblagdonrights2021
Gypsy CaraVanners is located in Central Florida & has been breeding Gypsy Vanners for over 10 years. We have multiple horses available, & publicly standing stallions. Contact Gypsy CaraVanners for more information.
(864) 72 GYPSY
All horses are GVHS registered.