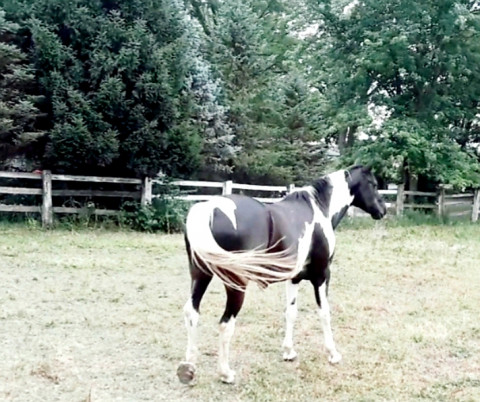 This mare has it all: 15 years old, 15.3hh tall.
- Flashy, gaited, gentle, 100% physically/ mentally sound, easy to catch, easy to handle, easy to tack up & mount from the ground or using steps stool, low maintenance, not barn or buddy sour - you can ride her alone or with others, loads/unloads in a horse trailer quietly, stands respectfully for Farrier work, traffic safe, not spooky, neck reins, rides great with or without a bit. In the past, has been used for therapeutic riding for children with special needs. Most recently, she's been ridden by our 2 young riding lesson students. Also, the occasional trail ride, sometimes I ride alone, sometimes with a few friends.
Babe would be a great addition to your barn.
This is not 1st come 1st served, I'll only consider the most loving & appropriate inquiries. This is not a horse that "I must sell", but it would be nice to cut down on my overhead for the winter months.
*No option to lease, No rent to own, No trades-Please don't ask.*
*I'd appreciate serious inquiries only- no robots, you CAN NOT pay with a cashiers check- don't waste my time with spam.*
I only accept cash in person(preferred), Paypal or CashApp for payment options.
I'm looking forward to meeting you & showing you all the great qualities of this wonderful mare. Thank you for your consideration!