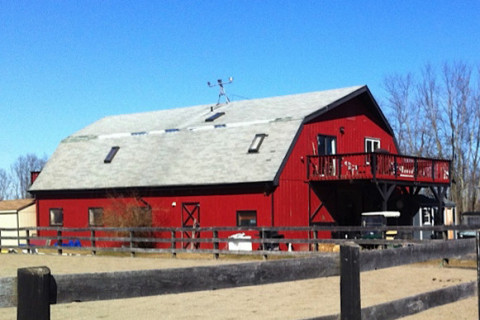 UNIQUE WELL-ESTABLISHED HORSE BOARDING FARM ON OVER 20 ROLLING ACRES IN A BEAUTIFUL, RELAXED COUNTRYSIDE SETTING OFFERING BOTH STALL AND ROUGH BOARD FOR UP TO 32 HORSES WITH INDIVIDUAL GRASS TURNOUT FIELDS. SPACIOUS 2BR/1BA APARTMENT ABOVE BARN FOR FARM MANAGEMENT OR STAFF. CONVENIENTLY LOCATED IN THE MIDDLE OF HORSE COUNTRY ON THE BORDER OF NORTH SALEM AND RIDGEFIELD NEAR THE JUNCTION OF ROUTES 6/22/84/684. $7,500/mo including utilities.
- Six-stall barn with matted 12x12 stalls, large windows, wash stall, tack room, feed room, bathroom. Turnout paddocks with sheds and individual grazing fields for stall boarders.
- One and two-horse fields accommodating up to 26 additional horses with roomy matted sheds, separate fenced dirt and grass turnout areas, nelson waterers and hay rings (water spigots and electric by all fields).
- Three-stall medical barn with walk-out-areas and limited grass turnout.
- Riding facilities include a large (100x190) lighted outdoor arena with sand footing, a cross-country grass field with jumps and mowed tracks, easy access to NSBTA trail system, an enclosed 60ft round pen, and dirt roads traversing the farm.
- Two-bedroom apartment above the horse barn, recently updated with full kitchen, comfortable living room, private deck overlooking horse fields, laundry room, propane heat and electric included, wired for cable.
- Plenty of parking, trailer parking onsite, convenient manure disposal, landlord mows and plows, fresh local hay and shavings available onsite. Several existing boarders prefer to stay if possible.
- Appointment required.