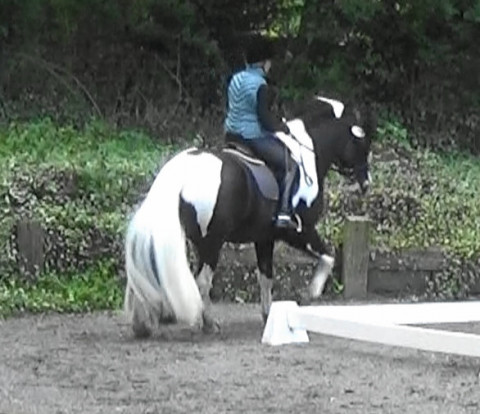 Stephanie Blockley - Clarke has been a well respected, successful instructor, trainer, competitor for over 35 years. Receiving her initial foundation in Dressage from Dietrich von Hopffgarten for a number of years, she has always continued her education with teachers of high calibre such as Olympic judge Linda Zang She is currently hosting and participating in clinics at Meadowgate with Jeremy Steinberg and Wolfgang Scherzer. From Training level to FEI levels, Stephanie has school horses able to teach you the feel of the levels to which you aspire. All breeds are welcome for training, from proper groundwork training as yearlings on up. Novices with the desire to investigate their interest in dressage are welcome to come for lessons on their own horse or use a school horse in Meadowgate's kind, no pressure environment. Stephanie has been teaching riders the enjoyment of learning correct riding skills since the 1970's. She is currently bringing along training horses up the through the levels to FEI, as she has been doing for over 35 years. Whether you have never ridden a horse in your life or it has just been years, you will enjoy learning from Stephanie.
Located just off of Interstate 5 at exit 215, Stephanie Blockley - Clarke Dressage at Meadowgate offers a low key, friendly environment with competent, highly experienced staff for the care of your horse.
Meadowgate's 60 acre facility is unequaled in it's variety of options of mud free individual turnout pen, paddock, and pasture options, which is something that is increasingly difficult to find these days.
The very tall heritage barn with its great light and air offers extra large stalls, bright wash rack, 5 crosstie tack up stalls, indoor walking area for inclement weather, on-site laundry service.
Trails abound just outside the back gate, there is a bridle trail around the farm as well.
The covered 70ft x 200 ft arena surrounded by covered 15 ft aisleway has an adjacent outdoor 70ft x 200ft arena. Both arenas have sand and rubber footing that is diligently maintained personally by Stephanie to a very high standard. The arenas are available for haul - in usage by prior arrangement - $15/time or $80/ month unlimited.
Horses have individualized feeding and turnout programs. There is a late evening barn check by onsite staff.
Please address inquiries to Stephanie Blockley - Clarke by text or phone at .
Alternatively you can email or message Stephanie Blockley - Clarke on Facebook.
Specialties
Adult Amateurs & Beginners Welcome
Advanced Training for Horse & Rider
All Breeds Welcome!
Beginner
Beginner Adults And Children
Biomechanics
Boarding
Classical Dressage
Clinics
Combined Training
Consultation
Covered Arena
Creates Horses With Good Work Ethic
Currently Riding And Competing
Dressage Clinics
Dressage Lessons And Training Through Grand Prix
Dressage Score Improvements
Dressage Show Coaching
Dressage Training
Equine Massage
Eventing
Excellent Instructor
FEI Dressage Training
First Level
Fourth Level
Full Service Dressage Training
Gentle Approach
Gifted Teacher & Trainer With A Foundation In Classical Dressage
Grand Prix
Ground Manners
Ground Training
Ground Work
Groundwork
Haul Ins Welcome
Horse Leases Available
Horse Training
Increased Responsiveness
Junior Riders
Kids
Kind
Lesson Horses
Lessons For Children And Adults
Long Lining
Lots Of Turnout
Lunge Lessons
Lungeing/Line Driving/Dressage/Combined Training/Lessons & Train
Monthly Training
Natural Horsemanship
Older Adult Riders Welcome!
Personalized Programs
Piaffer & Passage Training
Positive And Upbeat Teaching Style
Private Riding Lessons
School Horses Available
Schooling
Schoolmaster(s) Available
Second Level
Showing
Starting Dressage Horse Prospects
Teaching
Teaching You How To Train Your Horse
Third Level
Trailer Loading
Trails
Upper Level Dressage School Horse Available
USDF
USDF Bronze Medalist
Warmbloods
Weekend Lessons
Work In Hand
Young Horse Training
Young Riders