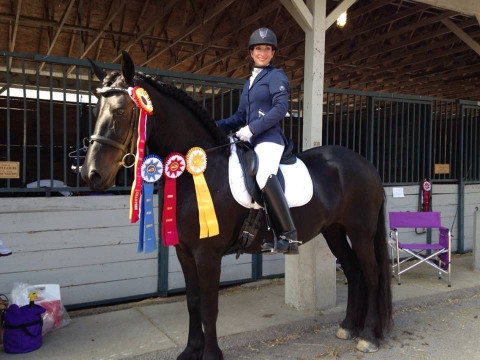 Melissa McKenzie is a USDF Bronze Medalist, Centered Riding Instructor, and classical dressage trainer based at her own Runaway Farms LLC. just outside of Knoxville TN. Melissa offers dressage instruction with a focus on the classical seat and centered riding position for riders of all levels, including those switching to dressage from other disciplines. She offers comprehensive dressage training for horses of all breeds, ages, and levels, from starting youngsters under saddle, to working with "problem" horses, with the ultimate goal of taking each horse and rider as far in dressage as they can dream! Whether your goals include showing, or just learning to correctly work with and enjoy your horse, Melissa can help you achieve them! Please call or text Melissa directly at the number listed, or visit her website www.runawayfarms.com for more information!
Specialties
Adult Amateurs & Beginners Welcome
Advanced Training for Horse & Rider
All Breeds Welcome!
Biomechanics
Boarding
Centered Riding
Classical Dressage
Classical Seat
Clinics
Communication
Correct Foundation
Covered Arena
Currently Riding And Competing
Dressage Clinics
Dressage Ponies
Dressage Score Improvements
Dressage Show Coaching
Fei Ponies
Friesian Dressage
Friesians
Full Service Dressage Training
Ground Manners
Ground Training
Haul Ins Welcome
Increased Responsiveness
Lunge Lessons
Monthly Training
Older Adult Riders Welcome!
Other Services Available
Personalized Programs
Private Riding Lessons
Problem Horses
Re-training
Restarting After Injury
Sale Horses
Schooling
Starting Dressage Horse Prospects
Teaching You How To Train Your Horse
Trailer Loading
USDF
USDF Bronze Medalist
Warmbloods
Weekend Lessons
Young Horse Training