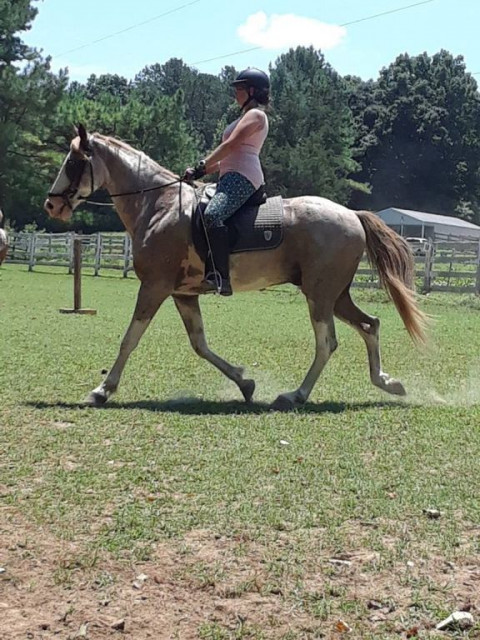 Learn horsemanship in a safe comfortable environment, for any age and experience level from experienced and caring instructor. Legend Acres will teach more than just basic riding skills, learn about horse care, horse anatomy, tack, and much more. Lesson students are encouraged to participate in local horse shows where they can showcase their new found riding and horsemanship skills. Legend Acres goal is to create responsible well educated horse enthusiasts that are well versed in horsemanship while building confidence in students as well as creating a bond with animals and the outdoors. Legend Acres has CHA Certified Instructors in English, Western, and Dressage. Legend Acres offers in home lessons.
Legend Acres uses Natural Horsemanship and Positive Reinforcement training and Equine Behavior Modification on the ground and in the saddle. Training work will be conducted in a round pen, on a lunge line, arena work, trailering, and trail riding
Legend Acres is a Unique Veteran Owned business offering affordable Training and Lesson Services. Veteran Owned Veterans Served!
Specialties
Acts As Agent In Your Search For Your Next Horse
Adult Amateurs & Beginners Welcome
Advanced Training for Horse & Rider
All Breeds Welcome!
Beginner Adults And Children
Biomechanics
Boarding
CHA Certified Facility
CHA Certified Riding Instructors
CHA Equine Management Certified
Classical Dressage
Creates Horses With Good Work Ethic
Dressage Clinics
Dressage Score Improvements
Dressage Show Coaching
Eventing
First Level
Fourth Level
Full Grooming Services
Full Service Dressage Training
Gentle Approach
Ground Manners
Ground Training
Ground Work
Haul Ins Welcome
Horse Leases Available
Kids
Kind
Lessons For Children And Adults
Long Lining
Lunge Lessons
Monthly Training
Natural Horsemanship
Older Adult Riders Welcome!
Pleasure
Private Riding Lessons
Problem Horses
Sale Horses
School Horses Available
Second Level
Starting Dressage Horse Prospects
Teaching You How To Train Your Horse
Third Level
Trail
Trail Riding
USDF
Warmbloods
Will Travel to You
Young Horse Training
Young Riders