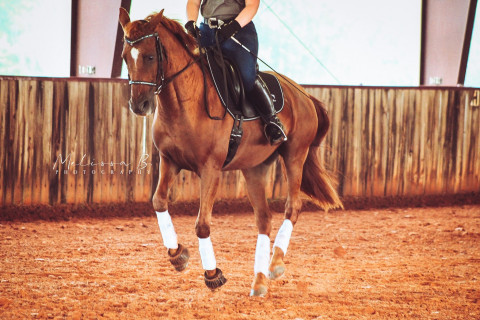 The name "Miroir du Cheval", loosely translated, means "Mirror of the Horse".
Here at MC Equestrian we strive to offer professional, fun, educated instruction and training to both the horse and rider. Our approach to training/teaching is that the horse is a direct reflection of the rider's own biomechanics.
The definition of biomechanics is: "The study of the mechanical laws relating to the movement or structure of living organisms."
​
If the rider is crooked and off balance, then the horse will be as well. It is our goal for the riders to learn and understand how their own body has a direct affect on the horse in the way it moves and performs. Understanding this makes you a better rider, competitor, and companion to your horse. No matter your riding discipline or style, biomechanics has something for everyone.
​
Biomechanics may be a key part of the training, but at the heart of our passion is using horses as a ministry to bring honor and glory to God. Like the horse reflects the rider, we choose to live our lives in reflection of Him.
Marilyn is a USDF Bronze Medalist and a Certified Instructor with the following organizations:
CHA - Certified Horsemanship Association – Master Instructor & Clinician/Certifier
PATH – Professional Association of Therapeutic Horsemanship – Standard Instructor
Specialties
Acts As Agent In Your Search For Your Next Horse
Adult Amateurs & Beginners Welcome
Advanced Training for Horse & Rider
All Breeds Welcome!
Beginner Adults And Children
Biomechanics
Cha Master Instructor & Clinician
Classical Dressage
Covered Arena
Creates Horses With Good Work Ethic
Dressage Clinics
Dressage Freestyle Creation
Dressage Score Improvements
Dressage Show Coaching
Eventing
First Level
Fun Show Judge
Gentle Approach
Ground Manners
Ground Training
Ground Work
Haul Ins Welcome
Kids
Kind
Lessons For Children And Adults
Lunge Lessons
Monthly Training
Natural Horsemanship
Older Adult Riders Welcome!
Path Certified Instructor
Pleasure
Private Riding Lessons
Problem Horses
Sale Horses
Second Level
Stallion
Starting Dressage Horse Prospects
Teaching You How To Train Your Horse
Third Level
Trail
Trail Riding
USDF
Warmbloods
Will Travel to You
Young Horse Training
Young Riders