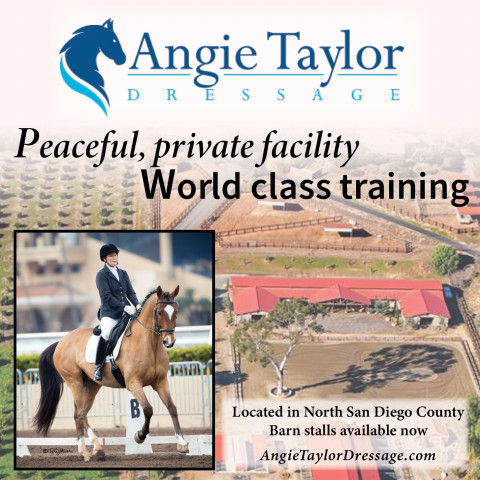 Angie Taylor Dressage offers world class training for the horse and rider, with a studied approach to riding both on and off the horse. Her in-depth understanding of the biomechanics of the horse and the impact that training has on both horse and rider is demonstrated by immediate and positive changes in the horses and riders she trains. Offering full service training with stalls available at her Bonsall, CA barn, lessons, and saddle fitting.
Specialties
Acts As Agent In Your Search For Your Next Horse
Adult Amateurs & Beginners Welcome
Advanced Training for Horse & Rider
All Breeds Welcome!
Beginner Adults And Children
Biomechanics
Boarding
Classical Dressage
Creates Horses With Good Work Ethic
Dressage Clinics
Dressage Score Improvements
Dressage Show Coaching
FEI Dressage Training
First Level
Fourth Level
Full Grooming Services
Full Service Dressage Training
Gentle Approach
Ground Manners
Ground Training
Ground Work
Haul Ins Welcome
Kind
Lessons For Children And Adults
Long Lining
Lunge Lessons
Monthly Training
Natural Horsemanship
Older Adult Riders Welcome!
Pleasure
Private Riding Lessons
Problem Horses
Saddle Fitting
Sale Horses
School Horses Available
Second Level
Stallion
Starting Dressage Horse Prospects
Teaching You How To Train Your Horse
Third Level
USDF
Warmbloods
Will Travel to You
Young Horse Training
Young Riders