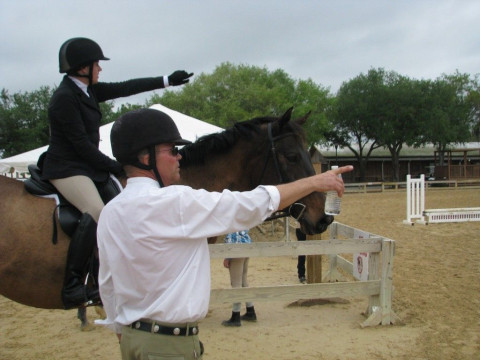 WOULDN'T YOU RATHER HAVE A TRAINER WHO TAUGHT you HOW TO RIDE instead of one who TELLS YOU HOW TO RIDE? Well Pat Sikorra is that trainer! When Pat asks you to do something on your horse, he explains to you WHY he is asking, WHAT he expects you to feel andHOW he expects your horse to respond.
I can tell you this is true as I am one of his students and having been to numerous trainers over the years & his teaching skills are unique!
Pat Sikorra has over 35 years of expertise in the Hunter/Jumper field. He has had a very successful career winning numerous classes and many championships, and has shown for many years across the country on the Hunter/Jumper Circuit. For the past 28 years he has devoted his time to passing on his knowledge of riding to others. Pat has excellent, positive communication skills with horses and riders and has successfully trained clients (horses & riders) at all riding levels. He trains horses from green-broke, problem horses, to the advanced Hunter/Jumper divisions. Pat also lives right on the property.
Pat Sikorra can be contacted by calling
Specialties
Adult Beginners Welcome!
At Home And Away USEF Sactioned Shows
English Riding Disciplines
Excellent Care
Fitness
Group Hunter Jumper Lessons
Horse Training
Hunt Seat Equitation
Hunter Circuit
Hunter Jumper Clinics
Hunter Jumper Horse Sales
Hunter Jumper Horses For Lease
Hunter Jumper Lessons
Hunter Jumper Riding Camps
Hunter Jumper Show Coaching
Hunter/Jumpers
Hunters
Jumpers
On Site Facility Manager
Private Hunter Jumper Lessons
Riding Instruction
School Horses
Starting Young Hunter Jumper Horses
Thoroughbred
Trailering
Warmbloods
Working With Problem Horses