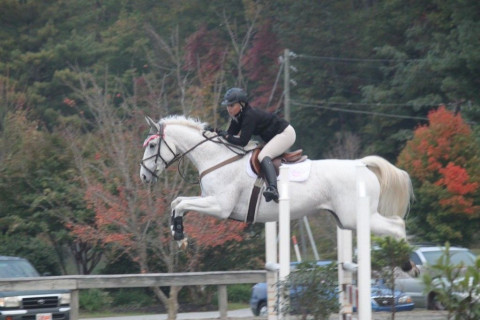 ---Please do not use contact form on NewHorse, we cannot reply to you!!! Please email for information!---
Madison K Brown, head trainer and barn manager at Garnet Hill Farm, has a select few openings for new students and training horses. With an emphasis on proper horsemanship, development, and equitation, Madison seeks to bring out the very best in each horse and rider in her program.
Madiosn has over 15 years of experience in the hunter/jumper world, with specific expertise in green horses, pony hunters, junior and adult equitation, and collegiate riding. She has ridden with some of the biggest and the best in the country, competed through the "A"/"AA" circuit, and been a member of an NCAA Division I equestrian team. Madison has the expertise, drive, and style to take you and your horse to the top.
Lessons are available to riders ages 5+ in the disciplines of hunters, jumpers, and equitation. We do have a limited number of school horses and ponies available for students who do not have their own mount, or will happily help you find the perfect match to buy or lease! Students who have their own horses are welcome to board with us at Garnet Hill, or ship in.
Training is available as well, for horses of all experience levels from starting to showing. We have individualized programs and very competitive rates.
We also offer an array of other programs including:
-Horse consignment
-Horse showing from local shows to the national circuits
-Tune-up and exercise rides
-Pony days for kids
-Clinics on and off-site
Please inquire for pricing, availability, and to join the team at Garnet Hill Farm!
Specialties
Beginners Welcome!
English Riding Disciplines
Excellent Care
Horse Training
Hunt Seat Equitation
Hunter Circuit
Hunter Jumper Clinics
Hunter Jumper Lessons
Hunter Jumper Riding Camps
Hunter Jumper Show Coaching
Hunter/Jumpers
Hunters
Jumpers
Private Hunter Jumper Lessons
Riding Instruction
School Horses
Starting Young Hunter Jumper Horses
Thoroughbred
Warmbloods