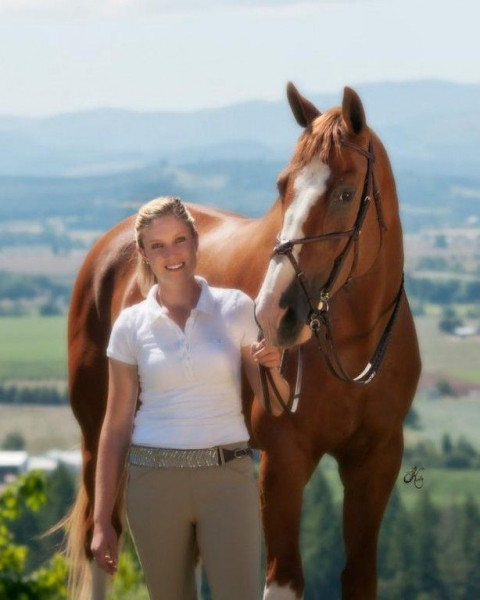 Hunterberry Hill Farm is a top notch training and boarding facility conveniently located in South Salem just a 3minute drive from Illahee Hills Country Club. We are a family owned and operated farm with a safe and secure atmosphere, and breathtaking views. Parents can feel equally comfortable staying to watch their children ride from our heated viewing room or viewing deck, or dropping their child off at our private facility with double gated entry, located in the secure Sunset Ridge Estates. Our open and airy barn with indoor arena provide a comfortable place for the horses and riders, to train year round. Your tack is kept safe, clean and dry in our heated tack room. Your horses are looked after 24/7 with staff living on site. We offer lessons on our wonderful lesson horses/ponies for any range of kids and adults/beginners to advanced. If you don't have your own horse we can help match you with the perfect partner for your riding and showing goals! Our full care board/training packages will get you and your horse in the winners circle! OR, if you have a young horse who needs starting under saddle let us make your horse a willing, safe, and fun partner for you. We offer starting/breaking services as well as finishing of your horse and showing in it's respective division.
Adelyn Rowland is the head trainer. Riding since the age of 9, Adelyn has an array of experience from Dressage to Eventing, but her main focus is on Hunters, Jumpers, and Equitation. Adelyn was very successful competing in the Jr Equitation and Medal Classes which she believes can provide a strong foundation for young riders through the principle of "form is function". She also is experienced in showing a variety of horses in Hunters and Jumpers. From training ponies and children in the cross rails on up to starting and finishing young horses for the Hunter and Jumper rings, Adelyn has done it all. She has a positive and encouraging teaching style, and no matter your age or skill level, she can take you where you and your horse want to go. Each lesson and training program is tailored to the individual needs of the horses and riders. We have some wonderful lesson horses available for lease, or bring your own horse and let it experience life at Hunterberry Hill Farm. Don't have a horse yet? We can take you on the journey to find the perfect horse for you!
Specialties
5-day A Week Training
A Shows
Adult Beginners Welcome!
Beginners Welcome!
Boarding
Colt Starting
English Riding Disciplines
Excellent Care
Fitness
Full Care Board
Full Service Boarding/training Facility
Full Service Care For Your Horse
Great Turnouts
Ground Work
Group Hunter Jumper Lessons
Hanoverians
Help Find The Perfect Horse
Horse Care
Horse Sales And Leasing
Horse Training
Horsemanship
Hunt Seat
Hunt Seat Equitation
Hunter Circuit
Hunter Jumper Breeding Program
Hunter Jumper Horse Sales
Hunter Jumper Horses For Lease
Hunter Jumper Lessons
Hunter Jumper Riding Camps
Hunter Jumper Show Coaching
Hunter Under Saddle
Hunter/Jumpers
Hunters
Hunters And Jumpers
Hunters/jumpers
Jumpers
On Site Facility Manager
Personal Training Programs
Ponies
Pony Lessons
Private Hunter Jumper Lessons
Professional Lesson Program With Safe
Riding Instruction
School Horses
Short Stirrup
Starting Young Hunter Jumper Horses
Thoroughbred
Trailering
Training Board
Warmbloods
Working With Problem Horses