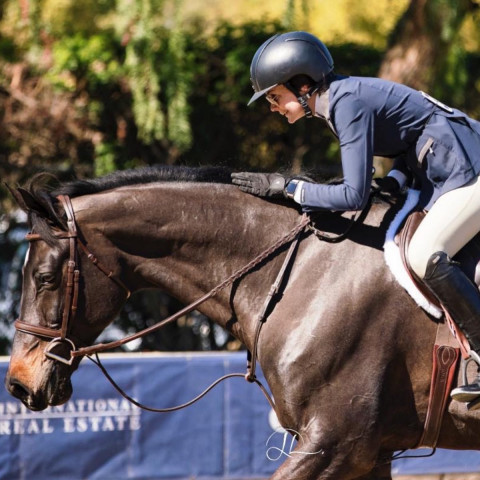 Full service hunter/jumper/equitation barn located in Lake View Terrace, CA. With over a decade of experience showing and training riders in the local - AA show circuit from beginners and ponies, juniors/adult amateurs and owners, to the big eq, to level 4 jumpers and beyond, we seek to build mutual trust and improve the overall connection between horse and rider.
We pay keen attention to the biomechanic correctness of the horse - how their bodies are placed, and how their energy is used in order to maximize athletic potential and minimize musculoskeletal strain, in effect riding for soundness as well as performance. Teaching riders to seek this correctness gives them a more sophisticated and sensitive feel, and makes for healthier, sounder, more willing horses.
Cellar Door Farm is a place where first and foremost, we love horses. We enjoy spending time with like-minded riders in a supportive, team-oriented environment, and understand that true success in the show ring is the result of a successful program at home. While our horses are our athletic partners, we recognize that they are above all horses and seek to give them a life with their biology and psychology in mind - longer turnouts for socializing, slow feeding haynets that extend time spent digesting food to optimize gut health and motility, and targeted, customized nutrition based on rounding out what hay provides and what the demands of their athletic lifestyle depletes. These are just a few of the ways we go above and beyond for the animals in our care and training- so they can go above and beyond for us in the show ring.
Specialties
5-day A Week Training
A Shows
Adult Beginners Welcome!
At Home And Away USEF Sactioned Shows
Beginners Welcome!
English Riding Disciplines
Excellent Care
Fitness
Full Care
Full Service
Full Service Boarding/training Facility
Group Hunter Jumper Lessons
Horse Sales And Leasing
Horse Training
Horsemanship
Hunt Seat
Hunt Seat Equitation
Hunter Circuit
Hunter Jumper Clinics
Hunter Jumper Horse Sales
Hunter Jumper Horses For Lease
Hunter Jumper Lessons
Hunter Jumper Show Coaching
Hunter Under Saddle
Hunter/Jumpers
Hunters
Hunters And Jumpers
Hunters/jumpers
Jumpers
On Site Facility Manager
Ponies
Private Hunter Jumper Lessons
Professional Lesson Program With Safe
Riding Instruction
Warmbloods