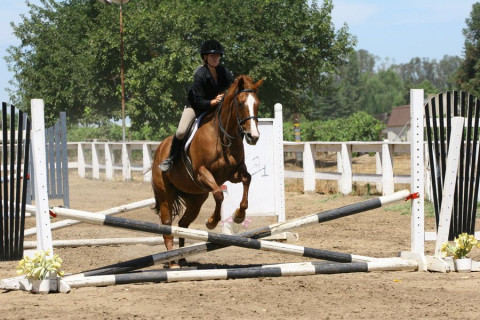 Discover the Art of Partnership between Horse and Rider. Learn how to be in complete harmony with your horse through a systematic program of instruction founded on a common-sense combination of Natural Training and Classical Dressage. Lessons for English, Hunter/Jumper, Dressage, and Western riders of all ages and levels. For more information about our lesson program please visit our website at www.harmonyhorsemanshipboise.com or our Facebook page at facebook.com/harmonyhorsemanshipboise/
WE OFFER:
HORSEMANSHIP 101: Learn all the basics you need to know to safely own your own horse including how to properly feed, house, groom, lead, lunge, ride on trails, navigate obstacles, trailering, and much more. Lesson horses available on a limited basis.
RIDING LESSONS for English and Western pleasure riders. We teach a balance seat method that applies to all disciplines. Beginners welcome. Lesson horses available on a limited basis.
JUMPING LESSONS for Advanced Beginners, Intermediate, and Advanced riders.
CLASSICAL and WESTERN DRESSAGE fundamentals. Discover how correct classical principles of balance and harmony can transform your riding and create a more supple and obedient horse. Lesson horses available on a limited basis.
RIDER BIOMECHANICS: Discover how the parts of the horse and the rider are connected and influence each other. Develop better overall balance, straightness, rein contact, throughness, and relaxation.
TRAVELING INSTRUCTOR: Instruction is available at your facility on a limited basis. Call for more information.
TRAILER-INS INVITED: bring your horse to our location for your lessons (a small ring fee applies).
HARMONY HORSEMANSHIP offers more than 45 years experience with a solid range of teaching and show experience including Hunt Seat, Jumpers, and Classical Dressage and Western Dressage. Riders across all disciplines will learn the skills to handle and ride correctly and in harmony with their equine partners. For the competitive rider seeking to improve and advance their show performance, our teaching goes far beyond technical equitation to give the rider insight into both the physiology and psychology of developing a happy, healthy, and more athletic horse regardless of the rider's chosen sport. For more information please visit our website at www.harmonyhorsemanshipboise.com
Specialties
5-day A Week Training
Adult Beginners Welcome!
Balance Seat Instruction
Beginners Welcome!
Combined Training
Dressage Fundamentals
English Riding Disciplines
Excellent Care
Full Care
Full Service Boarding/training Facility
Group Hunter Jumper Lessons
Help Find The Perfect Horse
Horse Sales And Leasing
Horse Training
Hunt Seat Equitation
Hunter Jumper Horse Sales
Hunter Jumper Horses For Lease
Hunter Jumper Lessons
Hunter Under Saddle
Hunter/Jumpers
Hunters
Hunters And Jumpers
Hunters/jumpers
Jumpers
Natural Training
On Site Facility Manager
Private Hunter Jumper Lessons
Professional Lesson Program With Safe
Reasonable Rates
Rider Biomechanics
Riding Instruction
School Horses
Student Competitions
TB Horses Off The Track
Thoroughbred
Trailering
Traveling Instructor
Warmbloods
Working With Problem Horses